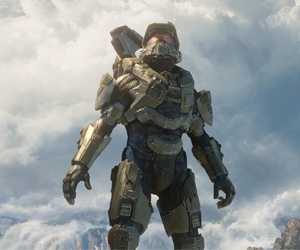 This past weekend the Penny Arcade Expo went to Boston for PAX East. At the event, a huge panel discussion was held by 343 Industries and Certain Affinity, where the current developers of the Halo series talked to fans about the past, present and future of Halo 4 multiplayer.
The panel went on for well over an hour, and as well as talking about how the game has developed over time, the team also revealed a lot of new information to the thousands of Halo fans in attendance. These were additions such as a new ranking system for the War Games mode, known as Competitive Skill Ranking (or CSR), which has fifty different levels to progress through – and will help with ranking and matchmaking in the game.
As well as that, the developers gave fans a look at Forge Island – an new area that will allow gamers using Forge to go and create the best new Halo maps possible – which will be made available for free on Xbox LIVE from April 11th. 343 Industries even went on to detail some more of the improvements and additions that will come with the next title update and the Castle Map pack – which will launch on April 8th (priced at 800 Microsoft Points), as will the new CSR system. The panel really goes in-depth with Halo 4 multiplayer, and will be fascinating to fans of the game.
See the absolutely massive panel video below:
Halo 4 is out now, exclusively on Xbox 360.