SEGA Announce Sonic Colours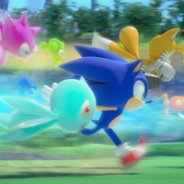 It seems Dr. Eggman is at it again, this time he is holding an alien race of colourful wisps captive in an interstellar amusement park. Sonic will find himself helping the alien wisps out whilst making use of their unique colour powers. The Nintendo Wii version promises to mix 3D gameplay with classic 2D, whilst the DS version will make use of both screens.
"The vibrant alien world of Sonic Colours enables players to race at top speed through incredible looking planets, each with their own unique visual style." commented Gary Knight, Senior Vice President of Marketing, SEGA.
"In addition to the classic Sonic game play style, the colourful new Wisp power ups offer a fresh new way of exploring these worlds and helps make Sonic faster than ever before!"
Sonic Colours will be available on Wii and Nintendo DS late in 2010. Below is a teaser trailer of the colourful action.
Check out the full press release here.