[CLOSED] Dragon Age Legends Giveaway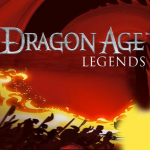 If you love EA's latest Facebook game, Dragon Age Legends as much as us then you will be looking for an edge to boost you on your legendary quest! We have some exclusive codes to giveaway which will unlock a few goodies to help you on your adventures.
The code will unlock a neat little package which includes: 2 Energy Potions, 2 Evra's Horns, 2 Smelling Salts, and 5 Acid Bombs to amplify the fun of Dragon Age Legends.
All you need to do is head over to our Facebook page and 'Like' us, then leave a comment on this post about why you like Dragon Age Legends and we will send you a code.
Codes expire on the 15th of April so get them whilst you can!
Not sure what Dragon Age Legends is? Check out our video preview here.