Madden NFL 12 Review

Game: Madden NFL 12
Developer: EA Tiburon
Publisher: EA Sports
Available on: Xbox 360 & PlayStation 3 (Xbox 360 Version Reviewed)
For those of you that don't follow the razzmatazz world of the NFL, let me put you in the picture as to what has been going down recently. Unlike the Barclays Premier League, which has recently kicked off its new season, and given many blokes on this side of the pond a reason to live for the weekend again, for a while it looked as though the NFL season was in jeopardy. A lockout and threats of striking players, due to arguments with the league over such issues as television rights, healthcare and unfair distribution of revenue, threatened to scupper the gridiron action before it began.
Thankfully, not only have all parties come to a satisfactory agreement, allowing the kick off to take place as planned this past week, but the intimidating presence of Cleveland running back Peyton Hillis on this here box tells me that EA's yearly Madden offering has also safely arrived.
Developer EA Tiburon have promised a wealth of new features for this new instalment of the much loved simulation. Just how do these new additions make a difference, and does the whole package earn the GodisaGeek Championship Ring?
GRAPHICS: From the get-go, it is obvious that there have been some big changes to Madden as a visual spectacle. The grass (or turf) is now represented in 3D. Players can kick lumps and divots out of it, or splash in puddles and muddy patches if the weather is bad. The players look and act just like they do in real life. Instead of standard player models being used to represent each of the guys on the field, there are noticable differences in the physical make up of individual players. To give an example, this means a beefy offensive tackle like The Blind Side's Michael Oher is noticeably more chunky and well built than the comparitively weedy Patriots reciever Wes Welker.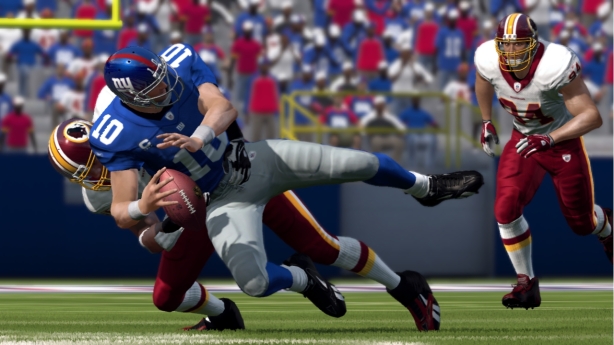 Aside from looking physically different, there are specific animations that correctly mimic the on-field styles of the players. Dog fight controversy QB Michael Vick is represented brilliantly, his unmistakable running style is captured to a tee, whilst Superbowl MVP Aaron Rodgers comes complete with his WWE-aping Championship Belt pose. FIFA have been doing stuff like this for years – so it is nice to see it achieved with such applomb here.
For the first time since the game's inception, there are also fully authentic entrances for each of the 32 teams. Like pro wrestling, most teams have a manner of entering the stadium in which the fans have become accustomed. For example, some teams have huge mascots, mega fireworks displays, bands of cheerleaders and they are all faithfully represented here, from the giant inflatable Vikings ship to the mental Broncos entrances that go off at Sports Authority (nee Invesco) Field with horses, pyro and all manner of bombast.
The stadiums are ultra-realistic, and feature representations of the exterior of the grounds for the first time. Everything is "filmed" using technology from EA and scenes and consulatation gleaned from NFL Films, and it shows. NFL Films are responsible for some of the finest sports camera work ever seen, including their stellar NFL America's Game documentary series, which completely craps on the likes of The Premiership Years or 101 Great Goals. The cinematography wizardry in Madden 12 is incredibly impressive, like watching an actual high definition sports broadcast, but controlling itself. When put together with magnificent lighting effects, which include accurate sun positions for every stadium (!), and new levels of detail in the folding, creasing player uniforms which even take into account helmets and cleats from different manafacturers, well lets just say my mind was suitably blown by the whole stunning HD package.
SOUND: Although there is often much debate over the commentary in the Madden series, particularly Stateside, I have always for one felt that it has been far superior to the likes of Mark Lawrenson who we have had to endure in our Soccer games, and once again Madden 12 gives good broadcast. The ever enthusiastic Gus Johnson handles the play-by-play stuff, with former Bengals player-turned-sportscaster Cris Collinsworth in the "Jim Beglin" role.
There are the usual excellent array of crunching sound effects and stadium noise, including chanting specific to certain stadia. A fully licensed soundtrack is also par for the EA Sports course, and this time it features some superb choices; a shout out to whoever gave the green light to "They Reminisce Over You (T.R.O.Y)" by Pete Rock & CL Smooth, which happens to be one of my favourite hip hop tracks of all time and is a genuine classic.
UK acts Chipmunk and Tinie Tempah are also involved, something which will do their chances of success on the other side of the pond no harm whatsoever. Of course, if hip hop isn't your thing (and the soundtrack is incredibly heavy on this genre) there is an option to use your own custom soundtracks.
GAMEPLAY: The way Madden games are controlled (for non-motion sensor versions, I might add) has altered very little in recent years. The way the ball is snapped, plays are selected, running is performed, and big tackles delivered are all pretty much the same as ever, give or take a couple of new additions. You can now pump a fake to a specific receiver to baffle the opposition, there is a diving catch option available to recievers, operated using the X button, and there is a new emphasis on well-timed tackling which involves ensuring you are positioned correctly before hitting the tackle button, rather than the "warping" scenarios from previous games which took some of the realism away from defending.
There are changes to the way players interact, with an all-new collision system, with full consideration given to the size and weight of the players in question, as well as their speed and direction of a tackle. With the amazing new tackle animations, this makes for some of the most bone-breakingly realistic videogaming hits I have ever witnessed. Seeing a running back get speared down by a giant, no-necked monstrosity is incredibly satisfying.
Gameplay is improved dramatically by the inclusion of different playing styles and behavioural traits for your players, that effectively represent how the players act in real life. This is done in a number of ways; for example, some players run with different sized stride lengths depending on their height and size, and there are three different styles of running in Madden 12 as a result. There are also an impressive five different types of ball-carrying styles that differentiate between the variety of ways players like to carry the pigskin.There is a frankly staggering, almost intimidating attention to detail.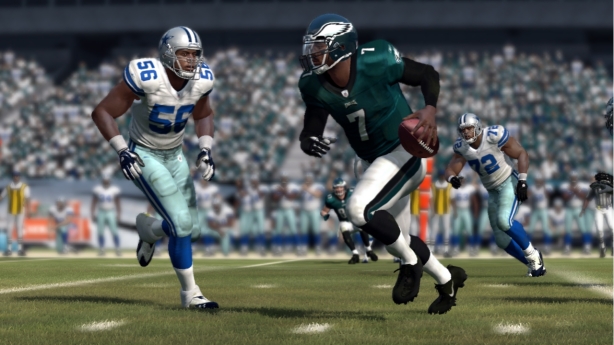 The Dynamic Player Performance AI system when playing in Franchise Mode takes into account the way each player behaves, and that means that each individual player in the game has a noticably different way of playing. How well you play, and indeed how well you call the plays through a season affects how your players perform, with the Consistency and Confidence levels of each player altering along the way depending on how well you are doing. EA has promised real-time updates on the player's confidence levels depending on how they are getting on in real life.
As well as this, players are given traits based upon their individual personalities and playing styles. Game-changing, intelligent franchise Quarterbacks like Peyton Manning and Tom Brady are just as noticably superior and composed here as they are in real life. More unpredictable players will perform as such; Jay Cutler is aggressive and more likely to attempt a pass even if it is not necessarily safe to do so, Michael Vick will use his speed and running skills to his advantage. It isn't just the QBs either, superstars in other areas of the field are represented accurately, from the flamboyant likes of Chad Ochocinco to the defensive mastery of Ray Lewis.
Blown away yet?
There are stacks of new plays to choose from, including some pinched directly from real coaches and on-field situations. For a novice these will mean very little, indeed if you don't know your Blitzes from your Shotguns you may be better suited to ask the (excellent) computer AI to choose the appropriate play for you, but such is the depth of this game and indeed the sport as a whole, there are big rewards for mastery and understanding of the playbooks.
LONGEVITY: Whether playing on or offline, the range of gameplay options is as staggering as the amount of work that has gone into making the game as realistic as possible. The Franchise Mode is incredibly deep, with every nuance of the game taken into account and fully customisable. The game is noticably tougher than previous instalments, and it is no pushover making the Superbowl when playing in All-Pro difficulty.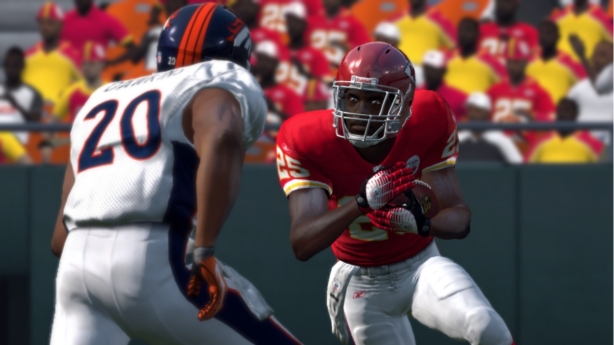 There are two other ways to play; Superstar mode allows you take control of an individual player, and to level up your stats with various practice modes and coaching. It is great fun, with specific coaching drills and audio guidance depending on your position on the field. There is also the somewhat America-centric Madden Ultimate Team trading card mode, however as much as I love American Football, I will stick to my Panini football stickers, ta.
Online play is boosted by EA's partnership with LeagueManager, an online Franchise community website which allows you to play Madden much in the same way we enjoy playing the superb FIFA Ultimate Team mode. Of course, you can also play standard one-on-one matches online, multiplayer for up to six people (including 2-3 player co-op) with voice support, and enjoy the usual leaderboards.
Madden comes into its own when playing with like-minded friends, whether on or offline, and the chances are this will be getting a ridiculous number of beer-fuelled hammerings by my friends and I between now and Superbowl XLVI, such is its long lasting appeal.
VERDICT: Plain and simple: this is the best Madden ever. There are literally too many improvements to mention and if I have missed any out, then I apologise, I was too busy being slack jawed with awe. The only criticisms I could dish out are that the level of depth and difficulty could be off putting to newcomers to the franchise, and there is a lack of support for Kinect, which could have made things very interesting, particularly when you factor how entertaining the Wii versions have been.
This is exactly how a sports game can and should be done. It looks utterly amazing and is tweaked and tuned like the very best pack of padded, face painted offensive linemen. If you love the NFL, you will love Madden 12, end of story.