NHL 12 Review

Game: NHL 12
Developer: EA Canada
Publisher: EA Sports
Available on: Xbox 360 & PlayStation 3 (Reviewed on Xbox 360)
It took EA a few years to tweak its FIFA soccer series before fans considered it to be an effective rival and a true alternative to Konami's Pro Evo series. They still haven't really mastered a decent game of cricket for console owners. And they gave up on rugby altogether. We recently took a look at the superb Madden 12, and now we turn our attentions to ice hockey. Whilst not as popular in this country as American Football, UK gamers have always loved the videogame versions. 1993's NHLPA Hockey is still a game I will return to every so often, and is rightly acclaimed as one of the best games for the Sega Megadrive/Genesis system.
While we have endured mixed fortunes with our other sports fare, EA have continued to churn out excellent simulations of ice hockey and gridiron, dating all the way back to 1991. There have been some cheeky rivals to their thrones — primarily NFL Blitz and NHL Hitz – but these Midway developed games were ultimately defeated by EA Sports.
Part of the appeal of ice hockey in videogame form is the high-octane, fast paced gameplay. That, and the fights. For a young man weaned on stuff like Speedball, an actual proper team sport where two participants having fisticuffs during a game is acceptable was a revelation. That NHL 12 actually states improvements to the in-game fights as a reason to buy this latest yearly overhaul says a lot. NHL 11 was excellent. This here package certainly promises a ton of new stuff to make it even better. But is it a swiftly dispatched puck past the goalie, or a double team attack to the nads by the Hanson Brothers?
GRAPHICS: There can be no complaints in this department — NHL 12 looks the absolute bee's knees. The player models are as realistic as you can imagine, with staggeringly impressive facial detail on display. There is an awesome amount of detail in minutiae like player equipment and kit. The Real Physics Engine that was introduced in NHL 11 is improved even further here; the movement of your players on the ice and the interactions between players and their surroundings looks even more natural and realistic than before. Uniforms and the players' hair ripple and move realistically under the superb lighting effects.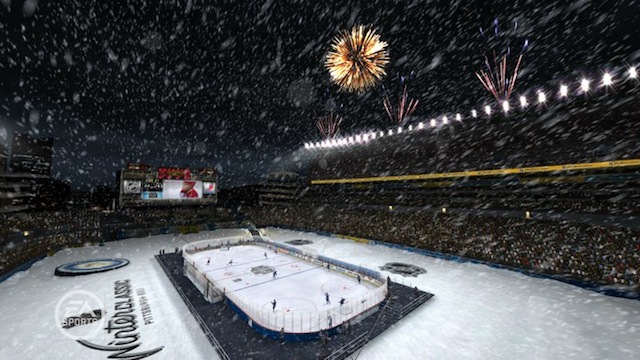 Like Madden 12, EA have secured exclusive rights to all of the stadiums in the league. There have been changes made, such as stadia-specific nuances (Edmonton's Oil Tower, for example) and the inclusion of the outdoor Heinz Field arena, where you can play in the 2011 NHL Winter Classic – an annual regular season fixture, played outdoors, on New Year's Day.
All of the licensed NHL teams are selectable, as well as the minor leagues such as the AHL and Canadian Hockey League. Also included are the top divisions from Switzerland, Germany, Sweden, Finland and the Czech Republic. Unfortunately, EA do not hold the license for the strongest of the European Leagues — the Russian KHL — nor does it feature any licenced international jerseys — but this is hardly a deal-breaker.
SOUND: All of the sounds you would expect to hear inside a hockey stadium are present and correct — the crowd noise, the sound of skates on ice, the organ music, the sound of a hulking Canadian man pummelling his opponent's head in with fists and a stick. This is commented upon by ESPN Play-by-play man Gary Thorne and former Philadelphia Flyers player Bill Clement. As with all EA Sports games there is also a full set of licensed tunes from real bands. The selections here range from the terrible b-list grunge of Bush and throwback Britpop detritus of Beady Eye, to the superb Celtic punk rock of Dropkick Murphys, Rob Halford's always dependable screeching on Judas Priest classic "You've Got Another Thing Comin'"and the sterling pop rock of E.L.O. A mixed bag.
GAMEPLAY: EA have made a number of changes which they claim alter the gameplay significantly. The improved "full contact physics" means that player-on-player, and indeed player-into-scenery contact and hits are far more varied and realistic. Each player behaves as they would in real life, with size and proportions taken into account. Some players are faster skaters than others but will go down or lose their balance more easily, whilst larger, more robust players will not necessarily completely lose their equilibrium when charged into, being able to regain their balance with their hands or knees.
Perhaps best of all is the fact you can now nail your opponents so aggressively that you end up smashing glass, shifting the goal, crushing them into, and through, the sides of the arenas and generally just putting the hurt on your fellow man like never before.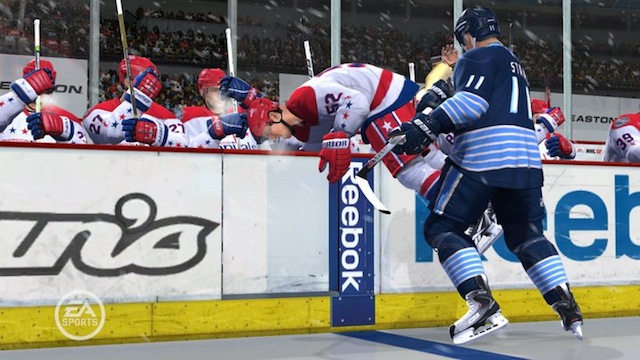 Computer AI has been tweaked, so that computer players will do a better of job of anticipating when the puck is moving and to whom; they will also react more logically and naturally to events taking place on the rink. The excellent puck physics, which have also been made even more realistic, don't hurt, either.
Goalkeepers, those much-padded arbiters of the hockey net, have also been given a bunch of new features this year. For the first time in a hockey videogame, the keeper can now wade in and get involved in fights (yay!). Generally, goalkeepers in NHL 12 mix it up a lot more around the goal area, rather than just standing there covered in uncomfortable looking equipment. These changes and improvements to an already killer package make for a stellar hockey experience.
LONGEVITY: There are a number of ways to play NHL 12, and that means it is going to last you for ages. Starting with the bog standard, friendlies and versus matches are par for the course — and much enjoyment can be had in on or offline multiplayer matches, or simply honing your own skills with a few matches against the computer.
Be A Pro allows you to take control of a single player and develop him (or her) throughout a number of seasons, with realistic stats and the excellent new option which allows you to begin your career in the minor leagues and work your way up through four years of hockey graft before being drafted into the majors. Be A Pro is as excellent as ever, and it is quite exhilarating when you finally get to lift the Stanley Cup after conquering it.
Another first for series is the inclusion of a number of NHL legends which you can use in a variety of different modes. Best of all of these is the "Be A Legend" — a spin on "Be A Pro" mode — which allows you to take control of the likes of Mario Lemieux, Wayne Gretzky or Gordie Howe and assimilate them into the roster of one of the current teams. Like Madden, you also get the kooky Ultimate Team card trading stuff, and a "Be A GM" mode which allows you to take control of the managerial side of things.
VERDICT: EA Canada have come up trumps with NHL 12, it is an excellent release. With a superb approximation of life on the ice in the big leagues, which looks and feels as good as any sports game has to date, there is every reason to pick it up. Even if you are not familiar with the sport, ice hockey is not as prohibitively stats-obsessed and stop-start in nature as other sports enjoyed Stateside, and lends itself as well here, as it is has always done, to the medium of videogames.