Gotham City Impostors gets firm Release Date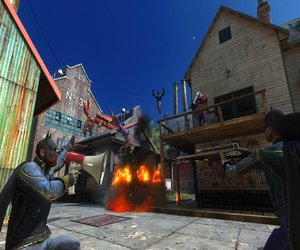 The download-only first-person shooter, Gotham City Impostors – which is inspired by the Batman universe – has now been given a solid release date by Warner Bros. Interactive Entertainment and DC Entertainment. The title will be available to download for Xbox LIVE Arcade, the PlayStation Network and Windows PC from January 10th 2012.
They are also running an open BETA for the game, which they expect to begin in December – however gamers whp purchased Batman: Arkham City can use a code inside their game case to gain eraly access to the online BETA test. The title is a rather strange mash-up of influences, being a 12-player FPS, where players either join the side of the Bats of the Jokerz – who wear attire inspired by their respective namesakes. There are huge amounts of customisation options promised, so that gamers will be able to make their own unique version of the characters, and to be able to choose what weapons and gadgets they are equipped with.Intuigued by the unusual nature of the title? Why not check out our preview here.
Gotham City Impostors, is scheduled for release on January 10th 2012 for download over Xbox LIVE Arcade, PlayStation Network and on Windows PC. The expected price will be £8.99 on PSN and 1200 MS Points on XBLA.