Mad Catz's New Cyborg R.A.T7 Contagion Gaming Mouse is Here!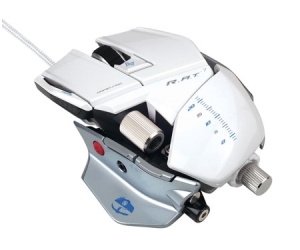 Popular peripheral manufacturer Mad Catz have unveiled their newest gaming mouse for PC & Mac – The Cyborg R.A.T7 Contagion! If you thought the name was a mouthful, you should see it's technical specs!
The new mouse has been launched on the Apple's Online Store in both America & European territories. "We're excited to introduce this special edition of our award winning gaming mouse to Apple online customers. The Cyborg brand is gaining traction and we expect it to accelerate as we continue to grow the product line." gushes Darren Richardson, President and Chief Executive Officer of Mad Catz Interactive, Inc.
Those of you who require a bit more precision and gadgetery from their mice, may well salivate over this new model's impressive technical specs:
DPI range – 25-6400dpi (in 25dpi steps)
Acceleration – 50G
Polling Rate -Dynamic up to 1000Hz
Tracking Speed – Up to 6m/sec
Always On
PTFE "Slick" Feet
Gold plated connector
Braided USB cable
I'm sure at least some of that should make sense to many of you PC gamer-types. More importantly the Cyborg R.A.T7 Contagion Gaming Mouse is both compatible with PC and Mac systems, ensuring that followers of both computer churches can frag each other in perfect harmony.
As seems to be standard with many gaming mice, the many physical attributes of the Cyborg can be configured to suit the user's needs: The size and grip style (ooo matron!) of the casing can be adjusted, and there are a variety of pinkie and palm rests that can be swapped over to ensure comfort at all times.
For more details, you can look at the peripheral's website. If you've heard enough and are wondering where you can obtain this piece of sci-fi human interface device trickery, then you weren't paying attention; I already said it was available on the Apple Store now!