Nightwing Bundle Comes to Batman: Arkham City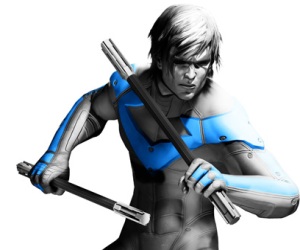 If you're a fan of Batman: Arkham City then good news today as Warner Bros. Interactive Entertainment and DC Entertainment are pleased to announce that the Nightwing Bundle Pack is now available for you to download on Xbox LIVE Marketplace and PlayStation Network! With his own unique gadgets and kick ass martial art fighting skills, Nightwing comes to Arkham City to assist the Caped Crusader via the challenge maps that are already available to you. As a little bonus as well, you get two new challenge maps to explore which are called Wayne Manor and Main Hall, and if that wasn't enough you get an animated Nightwing character skin for your troubles as well!
Batman: Arkham City is already out for Xbox 360 and PlayStation 3 and will be out on PC on 18th November, but already this title has received a vast array of critical acclaim. In fact GodisaGeek.com gave it a solid 9 out of 10 in our review and this new DLC will undoubtedly improve the experience as a whole, and if this new DLC isn't enough you'll be glad to know that the next downloadable bundle will be available on 22nd November which features Batman's famous and dependable sidekick Robin.
The Nightwing Bundle and the future Robin Bundle will cost you 560 Microsoft Points via Xbox LIVE Marketplace and £5.49 on PlayStation Network which is great value. So what are you waiting for? Get downloading, and in the meantime take a look at the trailer for the Nightwing Bundle below!
Batman: Arkham City is available on Xbox 360 and PlayStation 3 now and comes to PC on 18th November.