Sega's Samurai Bloodshow Gets a Price Cut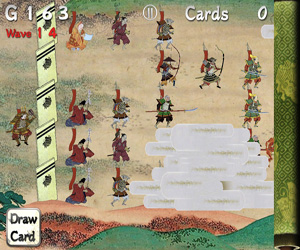 Sega have announced that, as of today, there is a free version of their iOS game, Samurai Bloodshow on the App Store as well as a price drop for a limited time only. This trading-card, tower defense game sees you take on the role of General to the Emperor's army, as you try to protect your Emperor from waves of angry Japanese men.
So think PvZ, but in place of smiley sunflowers, you have sword wielding soldiers. As you progress through the game, you gain more additions to your army such as, sorcerers and ministers. There is a multiplayer option via Bluetooth or Game Center and players can also trade cards locally via Blutooth. The full game will cost you £0.69/€0.79/$0.99 for the aforementioned limited time.
If you were like me and were a massive fan of the cartoony tower defense action in PopCap's vegetation vs vegetated, then Samurai Bloodshow is one you should check out too. It has cartoon styled gore along with terrific oriental music and at its current price, I'm definitely gonna check this one out.
Samurai Bloodshow is available for iPad, iPhone & iPod Touch via the
now.