Xbox 360 Brings Some Disney Magic to Celebs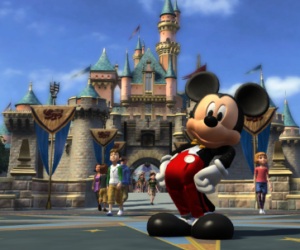 This afternoon, some UK celebrities, including comedian Johnny Vegas and actor Rupert Graves,  had a chance to get their hands on Kinect: Disneyland Adventures in London's Oxford Street. Xbox threw on a party for the celebrities and their families as they got to be the first people in the UK to play the upcoming Kinect title.
To add gravitas to the proceedings, some familiar Disney faces came along, too as Carol Wright and Chloe Sims from The Only Way Is Essex enjoyed special visits from Disney's leading mice, Mickey & Minnie. Stephen Graham(Boardwalk Empire) and family had their culinary skills tested with some cookie decorating and Rita Simons, who plays Eastenders' Roxy, and family had a ball with face painting.
Some of you may be asking yourselves, "these are celebrities"?! Well…ok, maybe so…but it is nice to see Microsoft bringing a little magic to the kids at least!
For more information on Kinect: Disneyland Adventures, check out our review.
[nggallery id=643]
Kinect: Disneyland Adventures comes out 18th November for Xbox 360. Only on Kinect.