EA and BioWare Unveil Command and Conquer: Generals 2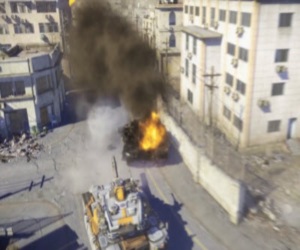 Last night during the Spike Video Game Awards, EA announced that the well established BioWare label and its newest edition BioWare Victory, are going to be producing the long awaited sequel to Command and Conquer: Generals.
Command and Conquer: Generals 2 sees you taking control of, funnily enough, the worlds generals after a terrorist attack wipes out all of the worlds leaders on the verge of signing a peace treaty. With the might of each Super Power and their army's at your disposal, you task is to wipe the ugly face of terrorism clean and dispatch it to non existence!
For fans of strategy games and the Command and Conquer series, you will be pleased to know that Generals 2 will be powered by the Frostbite 2 engine also seen in Battlefield 3. This will ensure amazing visuals and sounds while brining the war zone much more detail than ever before.
"We're bringing BioWare's vision for emotionally engaging gameplay and great attention to quality to the strategy genre and the Command & Conquer franchise," said Dr. Ray Muzyka, General Manager of EA's BioWare label. "I am excited to welcome BioWare Victory to our label. They are a great addition and the team is working hard to make sure Generals 2 truly immerses and engages players into this intense, gritty, modern war experience."

"For the last eight years, Command & Conquer fans have been begging for a return to the Generals universe," said Jon Van Caneghem, Executive Producer of Command & Conquer Generals 2. "With Generals 2, we are bringing the Command & Conquer franchise back to its roots, blending strategic gameplay with fast-paced action — all set in visually stunning theaters of war powered by Frostbite 2."
The single player campaign will follow the fight between the 3 power houses America, China and the Global Liberation Army (GLA). When that is done, players can join up with friends online in cooperative and competitive modes to add a new dimension to the way a real time strategy is played.
Command and Conquer: Generals 2 will be available in 2013 exclusively on PC.