Geek in the Tubes – Episode 6: Christmas Cheers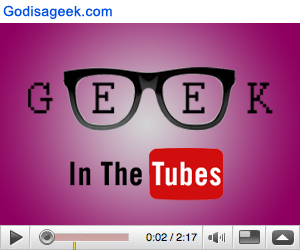 Welcome to episode six of Geek in the Tubes, our monthly roundup of some of the best gaming related videos on the web. With Christmas just two days away, we thought we would share with you some of our favourite Christmas related videos to help you pass the time until Christmas day.
Christmas is a great time of year to be a gamer. One, you can ask for awesome gaming related gifts for the big day. Two, you can go and play them while everyone else sits downstairs sipping cheap Bucks Fizz and playing charades. With that in mind, our first video will bring back some fond memories to anyone who has ever gotten a games console for Christmas — and almost broke down with happiness.
I remember when I got a PlayStation for Christmas back when gaming websites were an unknown entity. My reaction was not to different from the young chap in the video below, who absolutely loves his new Nintendo 64.
You think that kid was happy? He looked happy, didn't he? Not as happy as the next kid. Back in 2009, a young lad's grandparents bought him an Xbox 360. He then decided to turn into some sort of extra from the Exorcist because it was that exciting. Check this out. We feel his Xbox love. We really do.
Next, we have a Christmas message from People Can Fly, creators of Epic's Bulletstorm. Some people like to get together and decorate the Christmas tree with pretty lights over the Christmas period, but People Can Fly prefer to decorate their trees with blood and guts, as shown below. They even go to the effort of chucking a nice angelic figure on the top. Check it out!
That's a pretty hardcore way to celebrate the festive period. Not quite as hardcore as our next clip though. One YouTuber has managed to get one of the Super Meat Boy Christmas achievements in one sitting. It looks really really hard, and we salute whoever this person maybe. You can't help but watch in awe as this person jumps around levels in a way which makes the best of us look bad.
Do you think you could do that? I am not going to bother trying! And with that, we have nothing left to do but to wish you a very merry Christmas. Have fun, play games and then play some more games.