MinoMonsters Collect & Battle Game Launches for iOS devices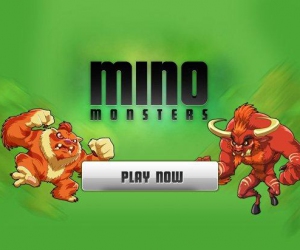 A new game, in the vein of Pokemon, Digimon and the like has just launched exclusively on iOS devices, iPhone, iPad and iPod Touch. The game – MinoMonsters – promises high-quality cartoon style graphics, coupled with a strong collect, battle and trade mechanic.
Players will develop a collection of pet monsters, who they must then train and send into battle – both in a single-player campaign and in multiplayer modes. The monsters all seem to have been developed very carefully, and there is a great variety of colourful, interesting creatures to colllect. In battle, players will take part in traditional turn-based play, as in most other games in the genre, making use of skills they have been working on between fights and unleashing bonus items for extra power-ups.
The other side of the game involves something of a pet simulator, where players can develop and improve the bond with their monsters, in order to gain more loyalty and better results in fights. There are extra features such as finding hidden items, and strategising which monsters will do the most damage in which fights, and the game seems quite deep in its fighting mechanic and in the strategising recquired in battle. the Pokemon series has always worked wonderfully on hand-held devcies, so it is no wonder tat a developer would step in to fill a perceived gap in the iOS gaming market. With strong visuals and exciting beasts that are bound to capture the imagination of players, and a strong battle system, this game could well be a big hit on the platform. We can only wait to see if Mino-Mania takes off!
The MinoMonsters App is now available for £0.69 / $.99 from the App Store on iPad, iPhone and iPod touch.