Mad Catz F.P.S. Pro Wired Gamepad Review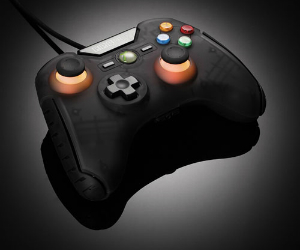 Mad Catz haven't always been a firm who have covered themselves in glory, certainly where I am concerned. Some of their early Noughties attempts at arcade sticks horrified the Sanwa-loving fighting game nerds, myself included, and there have been some poorly implemented third party peripherals to have emanated from the San Diego based firm over the years.
Things are looking up though, in recent times the build quality of some of their newer sticks and controllers has been top notch. The limited edition Street Fighter range was of a very decent standard, and their Tournament Edition sticks received high praise within the industry. Now they have teamed up with Major League Gaming to have a go at producing a control pad that will provide gamers with the sort of high-caliber performance they need when trying to shoot someone in the face, accurately of course.
Mention "Professional Electronic Sports" and throw the letters F, P and S around too much in my presence and it will freak me right out – it is fair to say that I am not the world's hardiest player of first person shooters, nor would I ever hold aspirations to join some of you on a server any time soon for any of that malarkey, but I know what I like and from the moment I picked up this little Army Green beauty, I knew that it would be mighty tricky going back to the official Xbox 360 controller of yore.
What makes this unit so good though? First of all you have the looks. The cool, kinda-see-through green hue of the rubber-finished pad reminded me of the limited edition chunky Xbox console from back in the day, remember that? The buttons, triggers and D-Pad are all standard stuff, and there is a subtle enough FPS Pro logo just above the centre Xbox button. There is a three metre cable – yes, it is wired – but that means it is also much lighter than the battery-containing controller most people will be used to. The sides of the controller feature a nice squishy ergonomic grip, which looks cool whilst giving comfort during your gaming session. Perhaps the best thing of all about how the FPS Pro looks are the changeable LED lights underneath the analogue sticks. That's right, it lights up, and you have a whole traffic lights' worth of hues to choose from. The sparkly glowing lights may sound like a useless addition, and in many ways they are, but if, like me, you find bright, shiny things irresistible, you will love the feeling you get sat there in the dark, your thumbs bathed in a red glow, as Marcus Fenix chainsaws a locust from neck to nuts.
It is all very well looking pretty, but looks mean very little in this game if not matched by performance. How exactly does this pad do things differently? Well, straight off the bat, the face buttons are flat, not rounded like on your traditional 360 pad. They feel nice, but are they any good in the responsiveness stakes when you're tapping them as is sometimes required? A quick play of Test Your Might from Mortal Kombat earns a resounding "yes".
The shoulder buttons are light and springy and equally responsive with none of the sticking issues I have had in the past with the official controllers, particularly on the bumpers. I was able to easily pull off flurries of Hammerburst rounds, a good way of testing out how much good the trigger truly is, and had no issues when mapping various attacks from my beloved fighters onto the top half of the controller.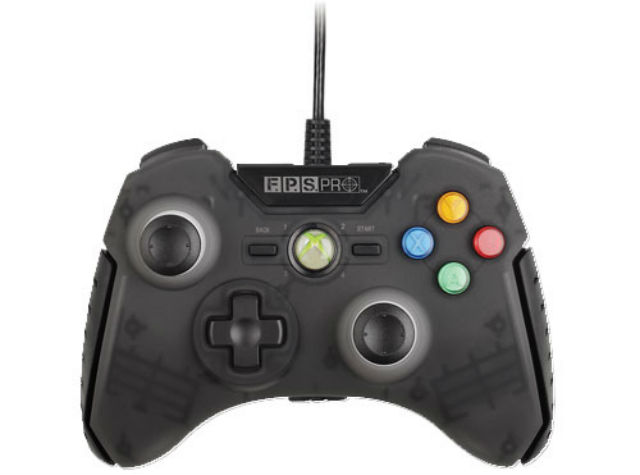 The FPS Pro improves on the bog standard controller in many other ways. The D-Pad is much fatter than on the official unit, yet is much more responsive and works an absolute treat on some of the older downloadable classics I tried out with it. Playing an 8-bit old school platformer like Shinobi or something like Garou: Mark of the Wolves with an analogue stick is just no good, and I am pleased to report that this superior D-Pad is more than up to the job.
The analogue sticks themselves are slightly more sensitive than you would be used to, but this was a noticeable help when playing FPS titles. My aim, speed and accuracy, particularly when operating sniper rifles and precision shooting was definitely helped by the FPS Pro. I am one of the few who seems to have been able to master one on one fighters using the analogue stick of the Microsoft controller, so I was pleased when I found myself equally adept at Dragon Punches, Burning Knuckles and Fatalities with the black nub of the FPS Pro.
The real selling point for this excellent controller are the two hidden Combat Buttons, which sit underneath the controller, and can be mapped to the face buttons, anaologue stick presses, or to change the colour of the LED lights under the sticks. These two buttons are tremendously useful, when you consider what a pain clicking the sticks can be, particularly under pressure. I have always found the use of an analogue button press to run during a game difficult to pull off, so being able to access this function just by tickling the little button underneath is a real joy, and something which improved my experience with the two shooters I tried with it, Section 8 Prejudice (where running in this fashion is a crucial part of the game) and Goldeneye 007 Reloaded. Similarly impressive results were to be had when mapping a Combat Button for zooming, making taking someone out with a sniper rifle that little bit quicker and easier, without having to lift your thumb off of the stick.
VERDICT: I don't know quite how this will go down with the hardcore gamers that it is obviously aimed at, but for someone who is a relative noob to the FPS genre, and has used a plethora of different games across different genres to test it, the fact that it is now my controller of choice for the Xbox 360 should tell you what a quality piece of kit this really is. The well-placed Combat Buttons are an excellent idea, even if you are only going to be using them to change the pretty lights, a nice aesthetic feature which certainly sold the thing to me. The triggers, analogue sticks and D-Pad all represent a definite improvement to my overall gaming experience, and at such an amazing price I would urge you to throw your lot in with Mad Catz and pick up one of these bad-boys, STAT.
The Mad Catz FPS Pro can be bought here for the tidy sum of £34.99. Be quick though, at the time of writing there were only 8 left in stock!