Pre-order Incentives for Mass Effect 3 Revealed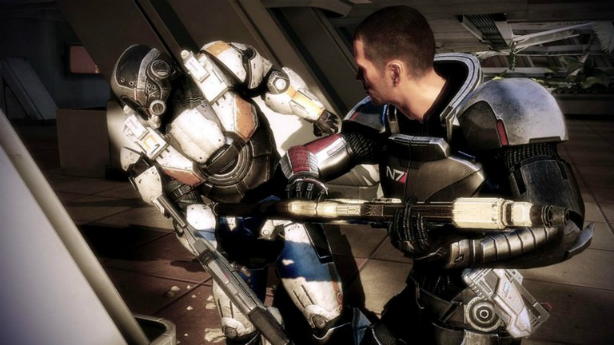 EA and BioWare have detailed a range of pre-order bonuses for the upcoming Mass Effect 3.
From today, those who preorder Mass Effect 3 from participating stores will receive the M55 Argus Assault Rifle as a bonus weapon to be used in-game. According to BioWare, the rifle is "deadly at any range" and uses a burst-fire method in order to save on those all important bullets. To me that seems a bit counterintuitive; surely if you want to save on bullets your gun will fire one at a time rather than in a burst when you press the trigger? Then again, what do I know? I'm just a humble person and not a galaxy-saving Spectre.
EA and BioWare have also detailed the N7 Warfare Gear, which is exclusive to those fans who pre-order the game at GameStop and EB Games in the United States and Canda. The N7 Warfare Gear consists of the N7 Valkyrie Assault Rifle and the N7 Defender Armor, which offers increased ammo capacity and amplified weapon damage. Perfect for those Summer nights which are rudely interrupted by a horde of invading Reapers.
Finally, PC players who pre-order Mass Effect 3 through EA's Origin service will receive the AT-12 Raider Shotgun. As Hicks from the film Aliens would say, "I like to keep this handy…for close encounters".
Those who have already pre-ordered Mass Effect 3 will automatically receieve the relevant pre-order items as detailed above. Whilst the items have been confirmed for North America, BioWare say that more information regarding pre-order incentives for other regions is incoming. You can get more information over at the Mass Effect F.A.Q.
Are you looking forward to finishing Shepard's fight against the Repears in Mass Effect 3? Have these bonuses conviced you to pre-order the game? Let us know in the comments below.
Mass Effect 3 is due for release March 6th 2012 for PC, PS3, and Xbox 360.