Dreamcast Classic Jet Set Radio Is Coming To Consoles & PC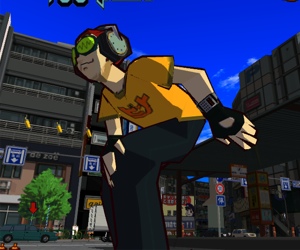 The Dreamcast may be long gone, but another of it's many brilliant games is finally coming to over consoles this Summer.
It's hard to believe that the Dreamcast only came out in the last generation (it feels older than that for some reason), and it's only in recent years that some of the tastiest fruits of the console's gigantic tree of games, have found their way onto other consoles. So it's great to hear that SEGA are bringing the rollerblading, graffiti-ing action of Jet Set Radio, to a console near you this Summer.
This HD version of the 2000 classic will be as faithful a port as you could possibly imagine, so a whole new generation can see what all the fuss is about.
SEGA have also announced plans for a special competition, wherein gamers from the UK & US are asked to submit three pieces of art – The winners will see their work placed in the game, while also winning some awesome prizes – Full details are on the competition's site.
Haruki Satomi, Senior Vice President of Digital Business at SEGA of America knows how big a deal this is: "Every time we look at our favourite SEGA classics, the fans never fail to ask about Jet Set Radio. The game was unlike anything else when it first came out, and was one of the first games in history to use cel-shading. More importantly, Jet Set Radio is a game that celebrates self-expression, and we're looking forward to seeing how gamers and artists come together to leave their mark on Tokyo-to."
This is all very good news indeed – To whet your appetite, see the first screenshots below.
Jet Set Radio is expected this Summer, for Xbox LIVE Arcade, Sony Entertainment Network and Windows PC Digital Download.
[nggallery id=779]