Geek in the Tubes — Episode 8: The Great Battle of Skyrim, Call of Duty: Police Warfare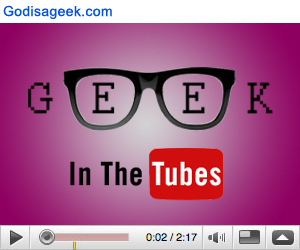 Welcome to episode eight of Geek in the Tubes, our monthly roundup of some of the very best gaming videos around the web. After last month's look at real life video games, we will be back into the virtual world – and boy to we have some treats in store for you.
First up, we have The Great Battle of Skyrim, which is an epic fan-made clip showing a battle of 500 Draugr, 200 skeletons, 500 Dwarven Warriors and a dragon – all using mods and console commands. Throw in some of the music from the God of War franchise and we are left with a truly awesome clip, which many in the comments argue that Bethesda could have made themselves. Check it out for yourself.
Next up, we have another fan-made clip. This time it's a pitch to Activision from YouTube user swedishtaco85 for a new take on the Call of Duty franchise — Police Warfare. Pitched as a downloadable title, the video says that the game will put players "in a multiplayer warzone inspired by Hollywood films and real life events," and it doesn't seem like the worst idea in the world. Again, this video is extremely well put together, check it out.
Next up, we have a FIFA clip from YouTube funny man KSIOlajidebt who stakes a claim for Portsmouth's attacking starlet, Erik Huseklepp, as being a famous BEAST in FIFA 12. As well as being a very funny video, you also get to see some serious skills on display. This one may not be safe for the kids, or work, so be sure to stick your headphones on before watching.
Last up, we have a handy Minecraft tip from TheSyndicateProject showing probably one of the handiest mods for the game, AutoSwitch. AutoSwitch makes brings efficiency to Minecraft by automatically switching players to the best tool when mining a block and also switches to the best weapons for attacking a mob or player. The mod works fantastically well, check it out below. If you want to use the mod yourself, you'll need the loader first and then the mod itself.
And that's that for episode eight of Geek in the Tubes, see you for episode nine in March.