Gotham City Impostors Is Out Now – Are Your Friends Impostors?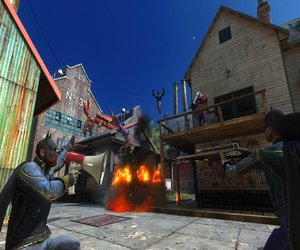 The unusual Batman-based team FPS, Gotham City Impostors is now available – So let's look at some ridiculously dressed commuters and acuse our Facebook friends of being imposters!
Yes, Gotham City Impostors is available on Xbox Live, PlayStation Network & PC.  This 6 Vs 6 allows players to take the mantle of a "Bats" or "Jokerz" member and dress up as their favourite alter ego, while battling their rival gang in a different kind of FPS setting.
Featuring a Batcade full of customisable options including costumes, weapons and gadgets; Gotham City Impostors adds a different spin to the popular DC superhero's world.
To celebrate today's release, some oddly dressed commuters travelled through London, making their chosen allegiance perfectly clear – See the gallery below for the strange results.
In addition, a Facebook app is now available, asking you to spot the impostor from a lineup of friends (within the tight time limit of three seconds)
Gotham City Impostors is available now on Xbox Live Arcade, PlayStation 3 & PC.
[nggallery id=762]