Mass Effect 3 Wants you to Serve Humanity by Signing Here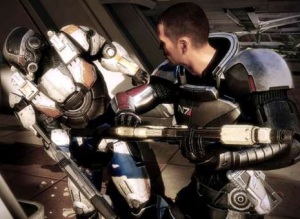 Commander Shepard and the Reapers are drawing ever closer to Earth now as the release of Mass Effect 3 is just a relay jump away from being released to our consoles on 9th March. But Bioware and EA are now asking that you the fans step up to the plate on behalf of the human race, by adding your signature to a UK government petition. This petition is calling for the government to release information of UFO sightings around the UK to be made public.
As it stands, there have been 609 unexplained UFO sightings in the UK since 1961 and this petition will serve to lobby the government and call for a public enquiry, asking for the files held about little green men or massive alien monstrosities that nobody has seen because of a cloaking system, visiting our beloved planet and making us their slaves for their fiendish purposes. Or by being friends and having a nice party, with cake.
It's not too late to sign up and take Earth back for ourselves. You can visit the website and sign the petition at www.petition.masseffect.com. Mass Effect 3 will be available to purchase on Xbox 360 and PlayStation 3 on 9th March in Europe and 6th March in North America. Remember, the Reaper threat is real!