THQ Release Re-Vamp of Classic WWE Wrestlefest Arcade Game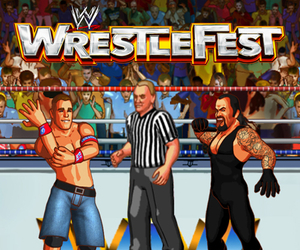 THQ have today releaseda surprising re-imagining of the classic WWF Wrestlefest title which was popular in Arcades around the world in the 1991. The new game – WWE Wrestlefest – will feature the same frantic arcade grappling action that was featured in the original version, but will update the roster of classic superstars with a compliment of modern-day Wrestlers as well (like THQ did for another recent title, WWE All-Stars).
The game features a 2-D side-on view,and all of the action is captured in a stylised cartoony way, as was the case in the Arcade title too. Gameplay will be a simple pick up and play affiar, meant to mimick the immediacy of an Arcade experience. Gameplay modes include a Road to Wrestlemania Career "story" mode, Steel cage battles, the over-the-top rope Royal Rumble and of course, some mad multiplayer action. As THQ usually do with their WWE games, there will also be DLC released in the future, such as extra wrestlers to play as.
Current Wrestlers featured in the game will include; John Cena, The Undertaker, Rey Mysterio Jr, The Rock and Randy Orton, whilst we will also see such classic stars as Stone Col Steve Austin, Macho Man Randy Savage and Jake "The Snake" Roberts – battling in arenas both modern and retro-styled Saturday Night's Main Event and Wrestlemainia Arenas. THQ have already announced that future DLC will include extra grapplers such as Shawn Michaels, Triple H, CM Punk and the Big Boss Man, as well as a classic Survivor Series Arena.
Perhaps more excitingly, THQ added that they are also working on Xbox Live Arcade, PlayStation Network, PC and Android versions of the title, which they aim to complete and release later this year. Being a huge fan of the original game – with the original WWF Wrestlefest being featured in our monthly Retro Corner back in April last year – it will be interesting to see how the title fares in its new incarnation. The quick and frantic style of the game could lend itself well to handheld and downloadable gaming, so THQ could have a cult hit on their hands. It all depends on if the company managed to capture the spirit of the original game or not.
Check out the trailer and screenshots below and judge for yourself:
[nggallery id=775]
WWE WrestleFest is available now through Apple's App Store for US $2.99 / UK £1.99 (iPhone) and US $3.99 / UK £2.49 (iPad).