FIFA Street Review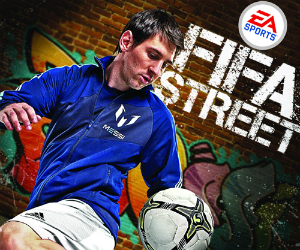 Game: FIFA Street
Developer: EA Canada
Publisher: EA Sports
Available on: Xbox 360 and PlayStation 3 (Reviewed on Xbox 360)
For a number of years, Sepp Blatter's organisation ruled the footballing roost when it came to the world of video games. There were many pretenders to FIFA's crown such as Actua Soccer, This Is Football and even professional substitute Michael Owen had his own game for God's sake. However, what was once ISS Pro, Pro Evolution, in Arsenal style, overtook the Manchester United of football games for a few years, but, they have been knocked off their perch by the big guns of FIFA in recent times.
In '05, the juggernaut of football games took the action to the streets with the aptly titled, FIFA Street. Two more sequels were spawned, but the series was put to bed in 2008. The games took a more cartoony approach to the beautiful game, the players were like Looney Tunes versions of their real life selves and the gameplay resembled a more arcade style football game.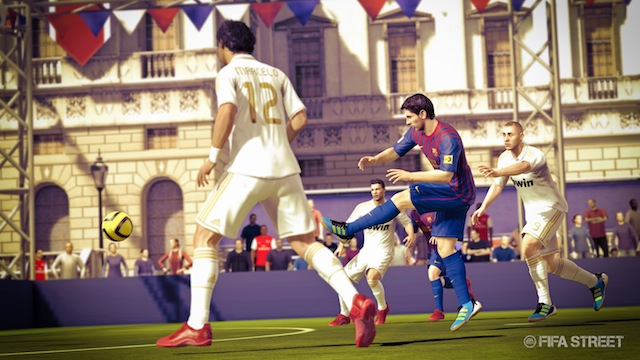 When it was announced last year that FIFA Street would be coming back, some wondered if Leo Messi would look and play like a caricature of himself. This iteration of the series is developed by some of the same team that brought us FIFA 12 and also has the same engine, but, how does it hold up? Is FIFA Street 2012 a game that should have had an early bath, or is it of Champions League quality?
GRAPHICS: Gone are the Marvel-like characters of old that sprinted across the makeshift pitches in the old FIFA Street games. They have been replaced with real life versions of the actual players, with skill moves that could actually be performed on the pitch. The player likenesses are what you'd expect from a FIFA game these days, pretty flawless. The arenas in which the games are played look very good, and are also varied enough to keep everything interesting. From tiny, converted car parks that only hold about 50 people, to a 10,000 seater stadium that will showcase your talents to a much more massive crowd. The lighting is glorious as you'll play under floodlights in some cases, or under a blistering sun in others. The UI is very friendly to newcomers as it's so simple to just start playing ball.
SOUND: For many years now, the FIFA games have had a massive array of eclectic tracks for the player to listen to whilst sorting out their formation for the following game in the menus. FIFA Street adheres to this precedent with some tracks that become instantly recognisable after hearing them 3 or 4 times. Unlike other FIFA games, loops of these tracks are heard whilst playing a match, along with shouts from the select crowd. "Skin 'em", "Close 'em down lads" and other classic lines that are heard at Old Trafford just as much as they're heard at a Sunday league match, really add to the overall feel of the game. There's no commentary in the game, just the occasional announcement from the tanoy in the bigger stadiums. Once again, another terrific feature that adds to the whole experience. These players are meant to be playing street football, regardless of whether their names are Robin Van Persie or Wayne Rooney, and it wouldn't sound right if Alan Smith and Martin Tyler were calling the action…to be fair, it's never "right" when listening to Alan Smith.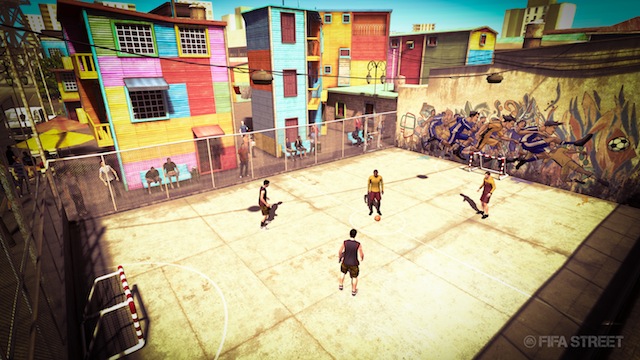 GAMEPLAY: As some of the same development team from FIFA 12 have created FIFA Street, you can be assured that the whole thing runs extremely smoothly. From the moment that your players are on the pitch, and the match starts, the action is fast paced and really satisfying.
Obviously though, skills are paramount here. Whether it's to entertain or gain some ground on an opponent, a sidestep here or a shimmy there, are things that have to be learned. There are a couple of decent tutorial videos that take the player through the basics of tapping the bumpers or flicking the right analog stick to perform the tricks in the game, and a lot of the time that's enough, but to get the most out of the game you really have to study some of the more expansive moves that will leave your opposition's jaw on the floor. This takes a bit of time and perfecting one move could take multiple tries, but it's gratifying when you can see your work paying off.
Passing can become frustrating as it isn't as pin-point as FIFA 12. It can tend to be very loose, which leads to the ball ending up in the opposition's possession, or it can bounce off walls like an air hockey table. The troublesome ragdoll physics of the latest instalment of the main series aren't present either, but this leads to players annoyingly running through some of their counterparts, as opposed to running into them.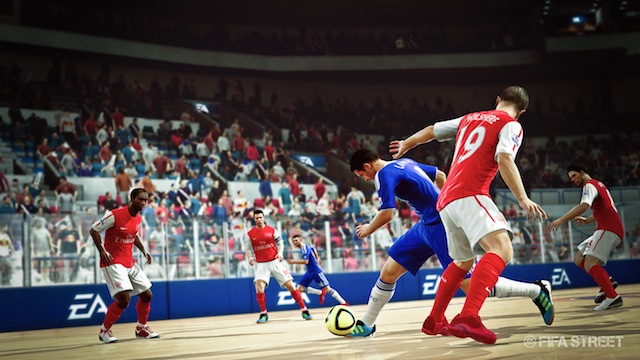 There is an exhibition style mode called, "Hit The Streets", where you can play a number of different matches like Last Man Standing (after each goal a team mate is removed and the point is to end up with no one from your team on the field of play), 5-A-Side, Futsal (a 5 a side match where there are no walls, meaning the ball can go out of play and fouls are also enforced), Panna Rules and a Custom option allowing you to create your own match style.
Panna rules is one of the more interesting options here. A panna is basically when you nutmeg a player. In Panna Rules, you are rewarded a number of points for each trick you do; 3 for a panna, 2 for an air beat (kicking the ball over your opponent's head) and 1 for getting past a player with a bit of flair on the deck. The twist is that each team has a "bank" where these points are stored until a goal is scored. Tricks are important here and it encourages some showing off.
The career mode within the game is called World Tour. In World Tour, you take a group of rag tag nobodies and face off against other street teams from around the world, with the goal of playing in Brazil to become the ultimate street team. The first thing about this mode is that you can import your virtual pro from FIFA 12. One of the cool things about this is that I could import my virtual pro from my PS3 copy of FIFA 12, over to FIFA Street on 360.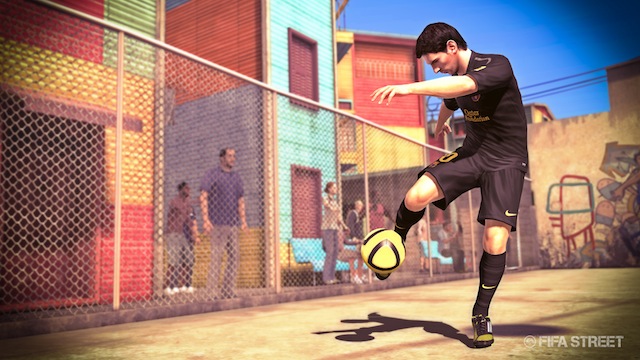 There are 4 regions to play through on World Tour, with multiple events in each region. To progress through each region, the player must accumulate points by playing in tournaments and achieving a higher ranking on that region's table. These points are accrued by advancing as far as you can in each tournament and performing as many skill moves as humanly possible during each match. This is a problem though as it can lead to playing tournaments over and over to build up your ranking, which gets boring when you're stuck in a rut. Each event in World Tour has a difficulty rating, from Bronze to Gold. There are rewards for completing these challenges and they stack, so winning the event on Gold will get the player the Silver and Bronze prizes too. These prizes consist of new kit designs and other items of that nature.
When playing FIFA Street, and performing some killer moves in World Tour, the thing that really dampens the mood is having to upgrade your players after a match. The skill moves performed by individuals in matches reward them points and in order to improve your squad, you have to assign these points to your players in the form of new special skills and attributes. Attributes are what you'd expect; Athleticism, Shooting, Dribbling, etc. The pain is, after every single match, it's nearly a sure thing that a number of your players will need to be upgraded and it takes some time. An auto option would've been welcome here.
The A.I. in the game is absolutely superb. An opposing team will always make measured attacks and will be conscientious when passing the ball. Sometimes their keeper can make rash decisions such as throwing the ball to one of your team mates, but it isn't so regular that it becomes baffling.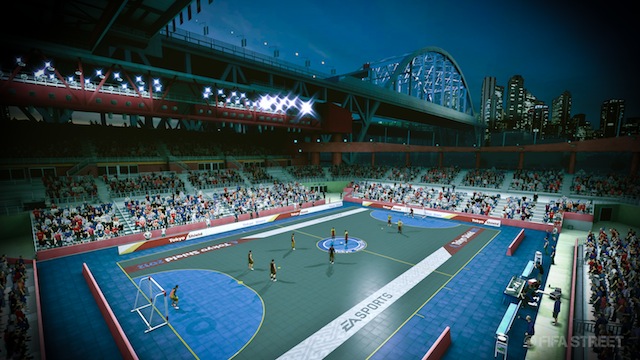 LONGEVITY: On the surface, a FIFA Street game may look like it could lose its appeal rather quickly, but with all the different game modes, it has provided a worthwhile experience. The ever-changing arenas aren't just a pretty face either. They also have different pitch dimensions and goals sizes. This, again, keeps the whole thing from getting rather repetitive, as adjustments have been made to ensure you can stick it in the back of the net in any rooftop/basketball court/loading bay in the world. On smaller pitches, passing is more difficult and one has to rely on their educated feet to skilfully brush passed a defender. On bigger pitches, passing is encouraged a lot more, as the opportunity presents itself more frequently.
The extensive career mode will take a number of hours to get through and multiplayer provides more hours of fun as battling against friends, or online, is a true test of your skills. Sadly, the number of teams to choose from isn't anything spectacular. Every major league is covered when it comes to clubs, but on the International front an astronomical amount of teams are thrown by the wayside.
VERDICT: Will this replace your copy of the latest FIFA or PES? No, but, it's not trying to. The reboot of FIFA Street is like a compliment to its bigger brother. The basic skills will get you by in this title, but if you're willing to put in the time and effort, you could be just as skilful as Maradona; in the virtual world obviously.