Gears of War 3 Forces of Nature DLC Out Now, First Xbox 360 Game to Hit 2000 Gamerscore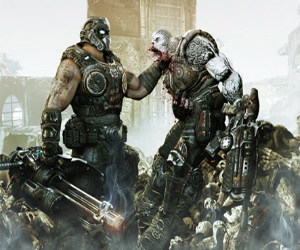 EPIC Games release the final piece of DLC for Gears of War 3 today, or at least the final piece included with the season pass.
Called Forces of Nature this map pack provides three brand new maps Cove, Aftermath, and Artillery. Two fan favourites from prior games also return in the form of Jacinto and the infamous Raven Down.
Continuing the Gears tradition of themed map packs, all the maps included in this DLC will be subjected to deadly natural occurrences. Snowstorms, fog, and tsunamis will ensure it's not only other players you'll have to contend with in order to come out on top. Four new character skins will also be included, along with two new weapon skins designed around community feedback.
Forces of Nature also comes packed with 10 achievements totaling 250G, this means Gears of War 3 will become the first game to offer 2000G.
UPDATE: Dawn of War II for PC has 2000 gamerscore, but this is the first Xbox 360 game to feature them. Thanks to @Dunncor and @MagicTurbo on Twitter for the reminder!
You can pick up Forces of Nature right now from the Xbox LIVE Marketplace for 800msp. The season pass is also still available offering a 33% saving on all 4 pieces of DLC.