Tara Strong is Voice of Juliet Starling as Cast of Lollipop Chainsaw is Revealed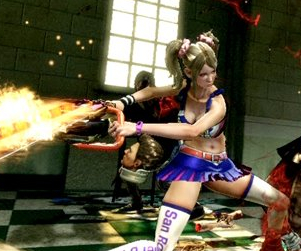 The mind of Suda51 has brought us some absolutely mental games and Lollipop Chainsaw looks no different. A blonde American cheerleader tears up some zombies with her boyfriend's head hanging from her waist. Sign me up.
If for some reason you aren't interested in the game yet, firstly, what's wrong with you? Secondly, we can confirm the cast of the game that will be voicing the characters in this crazy affair. Warner Bros. Interactive Entertainment and Grasshopper Manufacture have revealed that Tara Strong (Harley Quinn in Batman Arkham Asylum and Batman Arkham City) will be the voice of the scantily clad blonde, Juliet Starling and Michael Rosenbaum (Lex Luthor in Smallville) will take on the role of her boyfriend Nick.
Other than the protagonist and her sidekick, the cast is still packing a punch. Playing the role of Cordelia is Lina Cardelleni (Lindsay Weir from Freaks and Geeks), TV and film vet Gregg Henry (24, United 93, Black Dahlia) will voice Juliet's dad and Romero High School's mandatory goth kid, and all round evil villain,  is played by Sean Gunn (Super, Gilmore Girls), who is filmmaker James Gunn's brother. James Gunn also wrote the story for Lollipop Chainsaw.
But wait, there's more! Shawnee Smith (Saw) and Michael Rooker (Walking Dead, Slither) also partake in the madness that only Grasshopper can bring to the video game ring. The last piece of the puzzle is Jimmy Urine from the band Mindless Self Indulgence who plays a punk rock themed boss in Zed, as well as contributing to the soundtrack.
The final piece to this puzzle is the impressive set of lungs on rocker Jimmy Urine from the band Mindless Self Indulgence. On top of contributing to the game's soundtrack, Jimmy lends his voice talent to the deranged Zed.
It's great to see Tara Strong in the lead role here. Her performance as Harley Quinn in the Batman games is absolutely terrific and truly memorable. Bring on the mayhem.
Lollipop Chainsaw is set for release on the 15th June for Xbox 360 and PlayStation 3