Halo 4 Launching Worldwide 6th November 2012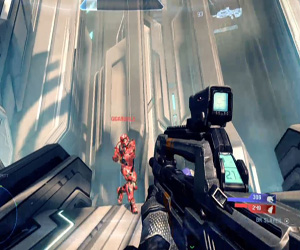 Yep that's right folks, November 6th is officially Master Chief day worldwide. Can we all have a day off to celebrate? The announced release date puts Halo 4 slap bang in the middle of Call of Duty's traditional release window, setting up what could be a titanic battle of the shooters this November. Microsoft are clearly intent on pushing Halo for a number of years to come, stating that;
"We are beginning a new saga with 'Halo 4' and embarking on a journey that will encompass the next decade of 'Halo' games and experiences," said Phil Spencer, corporate vice president of Microsoft Studios.
"Millions of fans worldwide have been eagerly awaiting the opportunity to step back into the boots of Master Chief, and with 'Halo 4' leading the charge, we're confident 2012 will be the most successful year in Xbox history."
We can expect to get a whole heap of new information about the Chiefs upcoming adventure at E3. Halo 4 is the first game in the series to be wholly developed by 343 Studios, the studio behind last year's Halo Anniversary remake. There is talk of taking the series in a new direction and freshening things up, and we can't wait to see what the new development team have come up with.
As for the battle of the shooters eluded to at the top of the story, who do you think will come out on top? Does it really matter? Can't we all just get along?! Let us know in the comments section below, and stay tuned to GodisaGeek for all the latest on Halo 4.