J.U.L.I.A Untold Available Now on iOS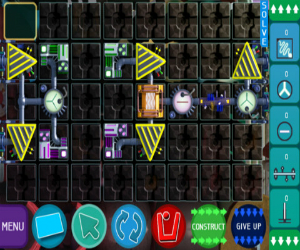 On March 2nd 2012 two-man team CBE released their game J.U.L.I.A on PC, now they're back with more this time on iOS, with J.U.L.I.A Untold.
The original PC game was described by our very own Mary Goodden, as "a cross between Professor Layton and Alien". An interesting mix for sure and the game received a pretty good review, so what can fans expect from the iOS title?
Well once again, players meet J.U.L.I.A., the charismatic, eponymous artificial intelligence system. The developers say the game will tell a self-consistent story, with even more mysteries to be solved and questions to be answered. Just how will the these mysteries be solved? Well by completing a collection of 50 puzzles, based on the principle of circuit assembly. With 5 memory clusters to reactivate, each containing 10 puzzles one of which is a "boss", there's certainly a lot of content to keep players busy.
Don't worry if the idea of circuit assembly puzzles sounds a little daunting, the game comes with 3 difficultly settings said to cater for all skills and ages.
J.U.L.I.A Untold is available to download right now on the app store for £0.69/0.99/€0.99.