FIFA 13 Hands-On Preview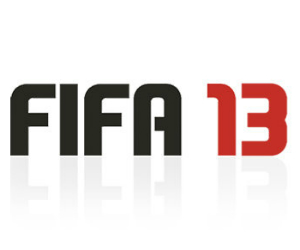 Another year, another FIFA, can this generation's 7th entry really improve enough on last year's title to justify your money? Last week I had the opportunity to visit EA's Guildford headquarters and be one of the first people to try out FIFA 13, all I can say is, what a difference a year makes.
Before we got our hands on the game itself, series producer David Rutter gave a short presentation comparing FIFA 13 with the outgoing FIFA 12. Although I am slightly critical of the people who say "sports games never change", FIFA has not always done itself many favours when it comes to those kinds of statements. However after listening to Rutter and seeing the game in action, it really did seem FIFA 13 had made some big steps forward, but does it translate to a more enjoyable experience?
The motto repeated throughout the day was "predictably unpredictable" FIFA 13 aims to introduce the unpredictable excitement of real world football but not by simply adding in random moments. "Random in a game is bad", Rutter said, 13 implements tools so that the game can calculate things more accurately which allow for more varied (or unpredictable) outcomes.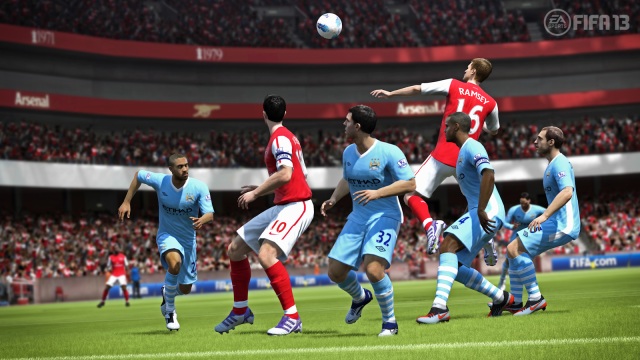 This unpredictability is most apparent in the game's biggest new feature, first touch control. In previous FIFA games even a level 50 defender could pluck the ball out of the air and bring it under control like Messi. In 13 however, first touch control determines how well the player is able control the ball, based on numerous different factors such as the speed of the ball, height, direction, pressure on the player, the speed the player is travelling, as well as their general skill level. This is noticeable almost instantly and it gives the game a much more realistic look and feel.
In conjunction with the new first touch control system, a push/pull feature has also been added, allowing for players to realistically jockey for the ball while on the move. You can also place your body inbetween your opponent and the ball, again this adds to the games more authentic feel.
One of the best examples of the first touch mechanic occurred as I broke down the wing with Salomon Kalou, I whipped the ball into the box more in hope than expectation, because in previous games actually finding a teammate in these kind of situations rarely resulted in a goal. As the ball curled its way towards Drogba in the 6 yard box, Koscielny stuck a leg out intercepting the ball. As I'm sure you're aware, in FIFA 12 that would have been that and the ball would be cleared. However, because Laurent was steaming into the box at breakneck speed and only just got his foot to the ball, he couldn't bring it under control and the ball bounced up for Drogba to poke home. As I watched the reply, I couldn't quite believe how realistic the whole thing looked, and this was true for the first touch control system throughout the 15+ matches I played; it really works.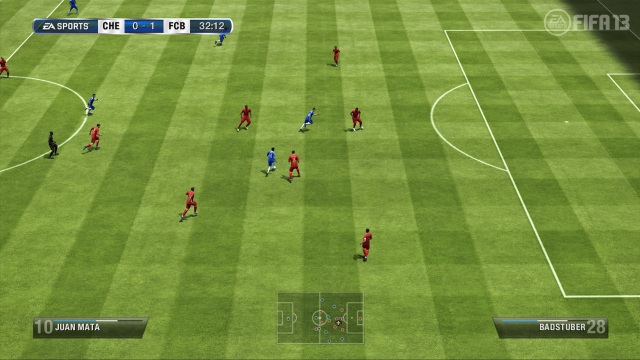 Player AI has also been improved, with players now much more aware of straying offside and when to time their runs. To balance this, defenders are now better at seeing potential runs and get into positions accordingly. As a result, FIFA 13 feels faster and more open than the last game, with more potential for successful counter attacks and realistic moves.
Complete dribbling is another new feature added that builds upon the 360 degree dribbling system of prior games. Now you can move the ball around while keeping your body facing towards goal. This allows you to pull of little jinks and darting runs much easier and makes trying to go past defenders an enjoyable experience. You enter complete dribbling by holding down both triggers, if you time a move correctly you'll enter a canned animation and go past a stationary defender. I sometimes felt these were a little too easy to pull off but with 5 months left until launch, the team did state that the game had a lot of fine tuning to go, so hopefully this is something that will be balanced out.
Free kicks also have more depth to them and play out more realistically than before. In FIFA 13 you now have more options whether you're attacking or defending a set piece. While defending you can add players to the wall simply by walking them up to it, you can jump multiple times and even inch forward for a slight advantage. Attacking wise you can have multiple players fake shots, which can draw opposing players away allowing you to thread that killer ball. Although all these new features work fairly well, it is still far too hard to judge where a direct shot on goal will end up. The issue of shooting from free kicks is something I feel has needed addressing for a few years now but it seems FIFA 13 won't be the game to do it.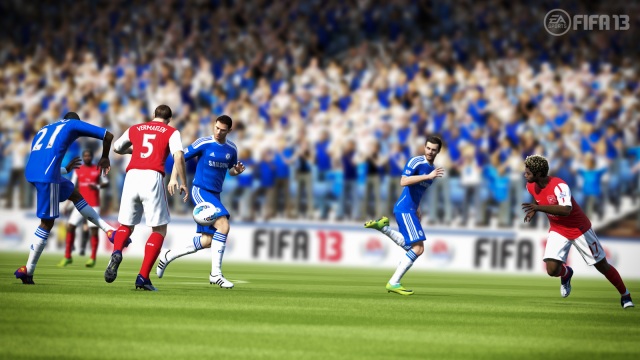 Heading the ball has been made easier too, which eliminates the frustration when you time the perfect cross, only for the player on the other end to tamely head it into the keeper's hands. Shooting from distance, much like free kicks, is still disappointingly sporadic. It never feels like you have much of a chance to beat the keeper and if you do, it feels more by luck than any kind of skill on your part.
Finally, the player models look stunning, light-years ahead of the scarily bad likenesses the series sported in its first game of this generation, FIFA 07. Seeing Juan Mata in the kit selection menu caused me to do a double-take, because I thought it was the real player. Although gameplay is always more important than graphics, that extra level of detail really adds to the immersion. Stadiums and crowds didn't look to have changed too much at this stage, which is a shame because as the player models improve it just makes the other assets in the game look even worse.
It will come as no surprise that despite all of the changes, FIFA 13 is still more evolution than revolution. But this shouldn't be seen as a negative. The FIFA series has come on leaps and bounds in previous years and the game has never looked closer to recreating the beautiful game. With EA remaining tight lipped about game modes and other features it's hard to say exactly how the overall package will turn out. However looking at FIFA 13 from a gameplay perspective (the most important perspective) I think FIFA fans have a lot to look forward to this autumn.
[nggallery id=920]
FIFA 13 is set for release this Autumn for every console under the sun.