The Godcast: Season 4 Episode 19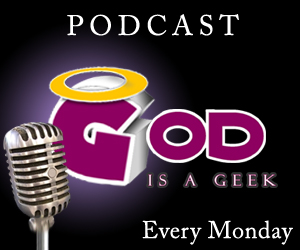 This week on the Godcast, the gang talk about the usual news and gaming experiences, but with the heavy realisation that it's three weeks until E3!
Adam has been playing Datura, and as many other awkwardly pronounced games as he possibly can, whilst enjoyed some Minecraft with Calvin. Alex has finally finished Gears of War 3 and lets us know his feelings on the ending. Has Lee finally "finished" Vanquish? You'll have to listen to find out, but he's also been playing lots of PlayStation Vita games, having finally succumbed to buying one, the cheeky sausage!
The podcast competition finishes next week, so if you fancy winning a replica of the Hyrule Shield from The Legend of Zelda, you'll need to listen carefully and send your answer to podcast@godisageek.com.
Running Order
News of the Week
Akai Katana
Achievement of the Week
Please remember to rate us in iTunes too (it only takes a few seconds!), as that makes us very happy indeed.
Subscribe to the GodisaGeek podcast via iTunes or Feedburner, or download the MP3 file (right click, then save).