The Godcast: Season 4 Episode 21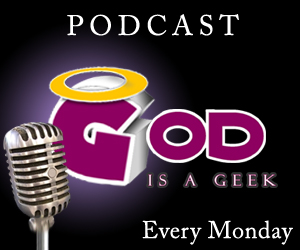 On this week's Godcast, Joe makes his debut along with regulars Adam, Lee and Alex to talk plenty of games. This episode could best be described as loose.
Joe's debut is very timely indeed, as he's been off to THQ's Pre-E3 event to play some Darksiders II and check out some Company of Heroes 2. Lee's life is now devoid of all meaning, so he's replaying Mass Effect 2 and has reviewed Gravity Rush. Alex has finally finished his dissertation, but this means he's only really played Fruit Ninja. When Adam isn't forgetting which episode he's recording (we know it's not episode 2!) he has been all over DiRT: Showdown, with a smattering of Dragon's Dogma, Spec Ops The Line and Diablo III; rant ahoy!
If you want to follow any of the guys on Twitter, it's pretty easy to do so. Adam is @JebusF, Lee is @WhiteSpyderZero, Joe is @Joco182 and Alex is @Antholex. Say hi to them, they like it!
Oh and make sure you listen right up to the end if you fancy winning a game! We'll be giving more games away on the podcast soon, so tell your friends and get them listening and subscribing! Feel free to send us your questions, or simply your thoughts on current news – we'll discuss the emails on the podcast. That address is Podcast@GodisaGeek.com, so get sending.
Running Order
News of the Week
Spec Ops: The Line
Achievement of the Week
Please remember to rate us in iTunes too (it only takes a few seconds!), as that makes us very happy.
Subscribe to the GodisaGeek podcast via iTunes or Feedburner, or download the MP3 file (right click, then save).