Mobile Monday – Battleship Free, Best in Show Solitaire, Non-Flying Soldiers, VVVVVV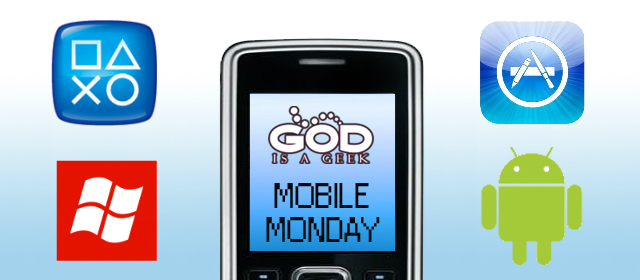 Yeah, you're reading that right, the week has come full circle, the weekend has been and gone and you've had your first day of the week at school or work. It's not all doom and gloom though, GodisaGeek.com have got you covered with another four reviews for your mobile gaming pleasure. First off is the mobile tie-in to the blockbuster movie Battleship. This is a classic take on the Battleship game and you can pretty much guess what you're getting into before even starting it up.
Secondly we've got Best In Show Solitaire, a Solitaire game with a strange – canine – twist to it. Next is Non-Flying Soldiers, an addictive little puzzle game that's just about as unique as it is strange. Last, but certainly not least, Sean Smith steps in to review VVVVVV from the Nintendo eShop. Check out the full reviews of each game below and check back next week for four more games to enjoy.
Get downloading and get playing!
Titles are available on iPhone and iPad unless specifically stated otherwise. If you like what you read, click the small black "App Store" button to load iTunes up and purchase the title!

BATTLESHIP FREE: by Martin Baker
We've all played a game of Battleship or two in our lives, whether that's on the original board game or one of the different variations over the years (my particular favourite involving pizza and shots of alcohol) and with the new blockbuster film currently making the rounds in cinemas all over the country, it was only inevitable that the iOS App Store would see an official tie-in game. Thankfully, the version that's developed by FinBlade and published by EA is just like the Battleship game that we all know and love; pick some places on a grid, fire your weapons and hope you're going to sink your opponent's battleship.
Almost everyone knows how to play Battleship, and if you don't then you're missing out on something special. There's nothing better than landing a well placed shot in the dead centre of your opponent's biggest ship, picking off a couple of smaller ones dotted around the sides and then landing the final blow. The basic premise,with this new digital version of the game has the player choosing whether they're going to be playing as the human or the invading forces, the aliens, and then jumping into the battle. Choose five places on the grid, five places where you think may contain parts of your enemy's ships, and then letting loose with your barrage. Hopefully you're going to hit something and you're going to know where some of their ships are located, allowing you to take them down one by one from that point on.
Something which was missing from the console tie-in to the Battleship film that I reviewed a couple of weeks ago was multiplayer. This is an aspect that is alive and well with this iOS game. Want to play along with your friends, sinking their ships and gloating right in their face? Sure, why not, nobody's going to judge you here. There's nothing better than playing Battleship with other people, and that's something that you get get right into with this new game.
Controls are exactly what you'd expect them to be, tap on the areas of the grid that you want to fire missiles into and simply tap the fire button to launch everything you've got. The only real downside to the way things are done is the fact that there's not much instruction. It's possible to get confused the first time you start the game, especially considering that the main gameplay mechanic is a little bit different to what most people will be used to. That being said, once you get used to things you'll be taking down ships with the best of them and enjoying yourself while you're doing it.
If you were a little bit disappointed with the console versions of Battleship, or just wanted a more up-to-date version of the game that you loved while you were growing up, as well as the ability to have it on your iOS, sinking ships while you're on your way to work, then you should be downloading this game right now; in fact, you should have started the download going when I started talking to you about it, it'd be finished by now. It's not the type of game that many people would be happy paying for, there's not much about it once you get past the main aspect of the game, but for something quick to play while you're waiting for your bus to turn up you can't do much worse than Battleship; especially for the low, low price of free.


BEST IN SHOW SOLITAIRE: by Martin Baker
We recently reviewed a strange take on a game of Solitaire with Klondike Battle a couple of weeks ago, this time we've got another take on the classic game, and something that's even more strange. Best in Show Solitaire is a game developed by Graduate Games and contains some of the classic rules of Solitaire that we're all used to, and mixed them in with other rules that you're maybe not so familiar with, all the while the theme of the game is dogs. Hence the name. So does the game live up to its name, or is it more of a dog's dinner?
If you've played a game of Solitaire before then you know what the basic rules of the game are and the rules used in this game are quite similar to begin with. The whole point of the game is to get rid of as many cards as you possibly can from the ones that are displayed on the screen. The more cards you manage to get rid of, the more points you're going to get once the game ends. This is where the rules slightly change from the more standard version of Solitaire. The main change is that you can put any card on any other as long as the value differs by one, you can put a six of diamonds on top of a five of spades, or a seven of clubs for example. This takes some getting used to, and certainly lends itself to some tactical play further down the line, but lovers of traditional Solitaire may find themselves turned away from the game purely because of the rule changes.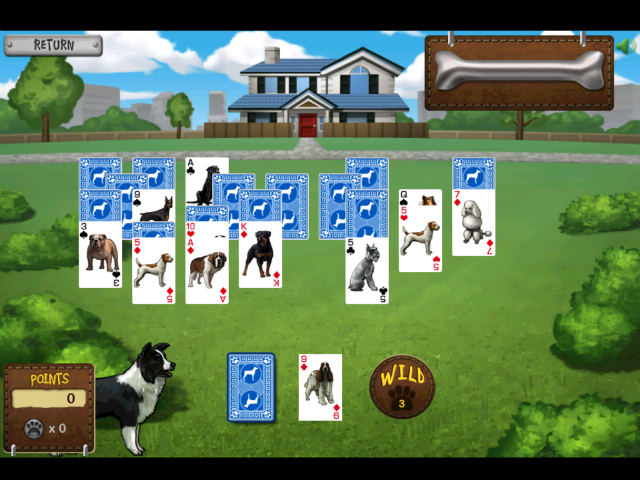 The controls are as easy as you would expect from a game that literally only asks you to tap cards on the screen, this is the kind of game you would give to your Mum to show her that the iPad is something that's worth getting, just before you go back to LEGO Harry Potter: Years 5-7 or something a little bit more meaningful. Lowering the barrier to entry is something that a lot of games need to do more often, thankfully Solitaire is a pretty simple game, even with the slight change in rules, so the barrier to entry was low enough without having to change things too much.
If you're in the market for something a little bit different but still want to play card games on your iPad then you may want to download and play Best in Show Solitaire. There's nothing particularly special about it, the game modes are good enough to keep you playing in several short bursts but there's nothing to hold people's attention for any kind of extended period of time. That being said, if you've got a family member who's been spending the last five years doing nothing but playing Windows Solitaire on that laptop you picked out for them, it might be time to push an iPad their way and show them something a little bit different, that could very well be Best in Show Solitaire.

NON-FLYING SOLDIERS: by Martin Baker
It's not very often that we come across a game on the iOS App Store that is literally something different, something that we haven't seen before across all the games that we've all played and downloaded across the years on the system. "Something different" must have been the design goal for Non-Flying Soldiers – developed by Blue Shadow Games – because you couldn't have gotten a more unique game unless that was your goal when you started the whole process. Even after playing it for hours I'm not even entirely sure what the point of the game is, how they came up with the idea or whether they were severely intoxicated when they did. What I do know is that I couldn't put it down during those hours, despite my brain telling me several times to do so.
The gameplay is simple enough, all the player has to do is get as many of the birds to the other side of the map. You'll have a minimum that you have to save in order to progress to the next level (think Lemmings) and a number of medals that you'll need to collect, but how you do so is entirely up to you. At the start of each level you'll have a few contraptions that you can use to help your birds get to the other side, as well as a limit for how many objects you can place into the scene. It's your job to use the objects, while taking the limitations into consideration, and getting to the other side of the level in one piece. It sounds simple enough on paper, but as soon as you get out of the tutorial modes, you'll soon realise that playing the game on the later levels isn't going to be a walk in the park.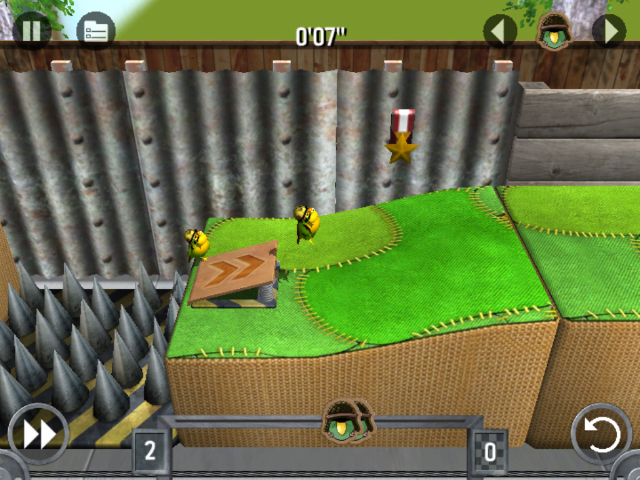 As well as the medals within each level, there are also coins in some of the levels which can be used on the arcade machine that's on the main menu. This is a little additional game that would have been a perfectly fine release on its own. It feels a lot like Space Harrier, only with birds and the player controls where they're firing by using their fingers on the touch screen. This alone feels like a fully fledged game, it's not the best thing in the world, but considering that it's not even the main aspect of the game, you can't complain. If you haven't collected enough coins within the main game to allow you to play for as long as you want (one coin is one play, just like the good ol' days), then you can always pay some of your real money to get more.
The controls of the game are easy enough, both the main game and the arcade machine, both simply requiring a single finger on the touch screen in order to get things working. The way that the main game doesn't set off until the player taps a specific icon also means that you don't need to be quick about where you're placing elements within the game world. If you're not the fastest gamer in the world, no worries, you can take as much time as you want to make your move, and you won't be penalised for it either. The perfect casual gamer game.
It's not difficult to recommend Non-Flying Soldiers to people, it's the type of game that people search for on the iOS App Store. Plenty of replayability, lots of levels, charm, humour, decent graphics, the list goes on. If puzzle games are your thing, then you'd do well to download Non-Flying Soldiers right now as a taste of what a unique game within the genre can be. If you're not typically a fan of puzzle games then you should download it anyway, there's always a chance that a game will sway your thoughts and this could be that very game.


VVVVVVV: by Sean Smith
You can't get much more old-school than an image of a 1980s Spectrum-style cassette case, and a flickering border that indicates a game is loading – but those are two things you see when you fire up VVVVVV, Terry Cavanagh's wonderfully retro indie platformer, originally released for PC a few years ago, and which initially came out on the 3DS in the States in January, but has now reached the eShop in the Euro-zone. And I am glad it has.
A platformer of beautiful simplicity, VVVVVV tells the story of some crazy intergalactic goings-on inside a labyrinthine space station, and puts you in control of one of six scientists, whose names all begin with the letter "V", naturally. Your job is to negotiate the maze, and rescue Captain Viridian's alliteration-named buddies. The action is presented in a series of rooms, all of which are amusingly subtitled, in the grand tradition of classics like Jet Set Willy.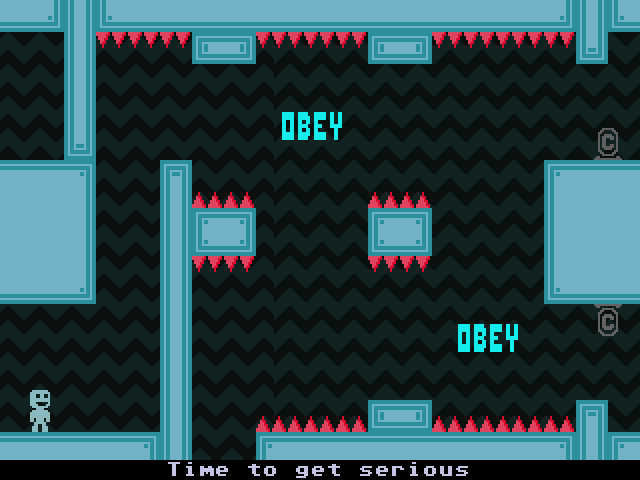 The gimmick is that your cute little space dude can harness the power of gravity to negotiate his surroundings. Using only one button, the game allows you, quite simply, to flip between walking on the ground, or on the ceiling. You use this one-button mechanic to avoid all manner of enemies and hazards, including platform staples like deadly spikes. You will die a lot, yet there are generous checkpoints that will transport you back into the action immediately to have another crack. There is a handy map which sits on the bottom of the screen, and while the entire map may seem daunting, it is not difficult to negotiate and there will seldom be a point where you find yourself lost.
In addition to the main quest, there are a number of user-created levels, with some celebrity guest appearances – in particular those crafted by Minecraft overlord Notch – and while some of these saw the light of day on the PC version, there are some 3DS exclusives. A level design function would have been the icing on the cake, and is something that has been mooted as a possible future addition, but sadly it doesn't feature here.
That, my friends, is about it.
One button, brilliant C64-style graphics (although the 3D is pretty much pointless), a simple yet oddly emotive main character (when his frown turns upside down, it cuts me to the quick every time) and some ace platforming gameplay. Let's hope that a level editor does crop up in future, as the potential for some fun use of the 3DS online capabilities is endless with a game of such simplicity.

Martin Baker
By day I play video games, test video games or just simply write about them. By night I fight crime on the streets of London as a masked vigilante known only to a select few ... damn SECRET identity. Could never get the hang of that.
I've been writing about video games for about 10 years now, and playing them for even longer, starting off with a Spectrum ZX passed down to me in about 1988. Yes, I used to play games that came on cassettes. Yes, they were AWESOME!
I've been writing for God is a Geek since October 2010 and loving every minute of it, aside from that I write for my own website and work as a video game tester for Testology. So, yeah, I'm pretty much living the life of a gamer, and I don't intend stopping anytime soon thank you very much.
Unless I run out of money, then we might have a problem.