Rockstar Announce DLC Plans for Max Payne 3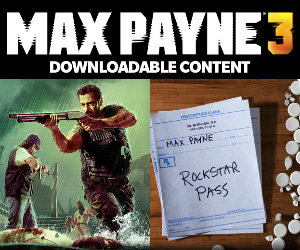 Rockstar have revealed a tonne of information about upcoming DLC for Max Payne 3, including a season pass offering content at a discounted price.
Rockstar have so much confidence in Max Payne 3 they aren't going to let a small detail like the game not even being out yet, stop them from revealing their DLC plans for the entire year. Fans can expect new modes and maps throughout 2012, starting with the Local Justice Map Pack in June.
Following that the DLC line up looks like this:
Summer 2012
Disorganized Crime Map Pack
Deathmatch Made In Heaven Mode Pack
Hostage Negotiation Map Pack
New York Minute Co-Op Pack
Fall 2012
Painful Memories Map Pack
Trickle Down Economics Map Pack
If you think you'll end up buying all the content listed above, the Rockstar Pass will grant you all the DLC at a 35% discount.
The Rockstar Pass will be available on Xbox 360, PS3 and PC for 2400msp/£19.99. No pricing has been announced for Local Justice Map Pack.