Go Behind The Scenes of Lollipop Chainsaw With Suda 51 and James Gunn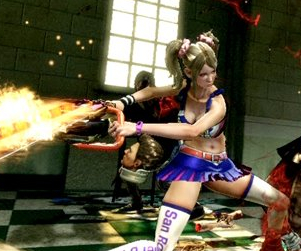 Grasshopper Manufacture have been releasing a steady stream of videos and other media related to their upcoming Zombie Romance Hack and Slash title, Lollipop Chainsaw. The latest video that has been made public takes a behind the scenes look at the game, as we join the insane creative genius that is Suda 51 and the writer of the game, James Gunn (writer of Slither and the Dawn of the Dead re-make).
The two take us through how the concept for the game was created, a kind of Romeo and Juliet story – but with Zombies and decapitation. We get to hear a little more about how it is to put together a game that wears its wackiness and over-the-top action proudly on its sleeve. You will certainly be hard-pressed to find another game that is anything like this one, we can't wait to enter the latest world Suda 51 has dreamed up.
Check out the video below:
Lollipop Chainsaw is due for release on Xbox 360 and PlayStation 3 on June 15th 2012.