Top 10 No-Shows – What Was Missing at E3 2012?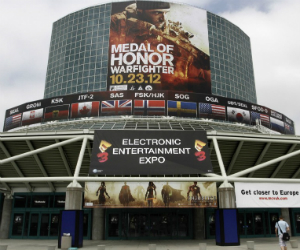 It sometimes feels like the hype building up to E3 overshadows the actual event. There's so much rumour and speculation in the weeks building up, it's inevitable that not everything will show-up.
However some things are more conspicuous in their absence than others, here's the GodisaGeek.com top 10 list of things we thought we'd see at E3 2012, but didn't.
10. RYSE
Developed by Crytek, the game was first teased at E3 2010 as Codename: Kingdoms. A year later at E3 2011 it was re-unveiled as RYSE, a first-person melee title for Kinect. When asked why the game wasn't at this year's E3, Microsoft said: "We're just not at a point right now to show the game, you'll see more about that game, no doubt."
9. Alan Wake 2
Alan Wake 2 wasn't really on the radar when it came to E3 2012, that was until a rather strange tweet was spotted from Remedy's creative director Sam Lake: "It's all true. It will happen again, in another town, a town called Ordinary. It's happening now." The tweet also linked to an Alan Wake-esque poem. Alas the game never showed, hopefully it's not at the bottom of a lake and we'll see it soon.
8. Rainbow Six: Patriots
First announced back in 2011, Rainbow Six: Patriots seemed a long way off with its 2013 release window. It's now mid 2012 though, surely E3 would be the perfect time to show how the game is coming along? Ubisoft however didn't think so, with titles like Watch Dogs, Assassin's Creed III, and Far Cry 3, the publisher said "the best thing for the brand was to not bring it to the show right now".
7. GTA V
You may be thinking number seven is a little low on the list for GTA V, in truth though no one really expected Rockstar to show up at E3. It's been a long time since the developer had any real presence at the event and with a game like GTA V, they really don't need the exposure to make a splash. Still the fact that GTA V wasn't at E3 in any form at all, probably snuffs out any chances of a 2012 launch.
6. Respawn Entertainment's First Game
The legal battle between Activision, EA, and ex-Infinity Ward members (who left to form the new studio in April 2010) always threatened to delay any news of Respawn's first game. Already outed as a sci-fi shooter, co-founder Vince Zampella, who was at E3 this year, said details on the game will come "hopefully soon".
5. Bungie's Next Game
Despite numerous details being divulged in the Activision / EA court case, Bungie decided against showing off their new series, which is currently codenamed, Destiny. We already know the first Destiny game is due out on Xbox 360 next year so we may not have to wait till E3 2013 for the official reveal to take place.
4. The Last Guardian
Team ICO first presented The Last Guardian at E3 2009, since then anticipation has turned to anxiousness with many believing E3 2012 was the last chance for the title to get a release date. Sadly another year and another no-show, this time Sony say the game's absence was due to "technical difficulties". Technical difficulties? For a game so long in development already? The signs don't look good.

3. Sony's Cloud Gaming Service
The rumours of Sony buying Gaikai became so strong in the build up to E3, even top industry experts spoke about it like it was a done deal. It was said the cloud gaming service would merge with PlayStation 3 to provide instant access to PS1, PS2, and even PS3 games without the need for discs or downloads. Just a few days after E3 though and it has been revealed that Samsung will be teaming up with Gaikai to incorporate the service into their latest TV sets.
2. The Legend of Zelda for Wii U
After Nintendo chose Zelda as the franchise with which to show off the Wii U's capabilities at last year's E3, fans across the world sat with their fingers crossed hoping for a big reveal this year. The reveal never came and the press conference never really got going, bar the announcement of Pikmin 3. With the first true Zelda title for Wii coming right at the end of the system's life, who knows how long we may have to wait for Link's début on the Wii U.
1. Next-Gen Consoles
Earlier this year the internet exploded with rumours of next-gen systems breaking cover at E3. A few reporters even claimed 100% guarantees from industry insiders, it was hard not get to get caught up in the excitement. It made sense too, the Xbox 360 launched back in 2005 and Sony didn't want to be late with a new system again, so a 2012 reveal followed by a 2013 release was more than plausible right? Wrong.

So E3 2012 is a wrap and despite all the things that didn't happen all in all it was still a pretty good show, what was your favourite announcement to come out of the expo?
Have you got any suggestions for games or announcements that should of made this list? Let us know in the comments below.
You can check out all our E3 coverage right here.