Forza Horizon Collector's Edition Revealed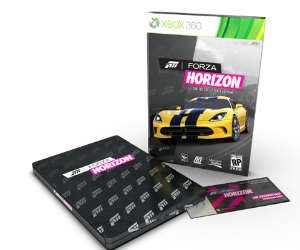 Speed demons take note, as Microsoft reveal the Forza Horizon Collector's Edition.
The Collector's Edition comes with a 'festival ticket' granting players five exclusive liveries, an Accelerator Token Pack, and VIP membership for Forza Horizon. VIP members will receive an exclusive car pack and access to special in-game events.
Pre-ordering will net players a code for a Forza Horizon-themed Dodge Challenger SRT8 392, that be accessed right now in Forza Motorsport 4.
If that wasn't enough it all comes packaged in a shiny steelbook case. Are you pumped for Forza Horizon, will you be parting with that extra bit of cash to pick up the Collector's Edition?
Forza Horizon will be available exclusively on Xbox 360 23rd October.