Might & Magic: Duel of Champions PC and iPad Hands-On Preview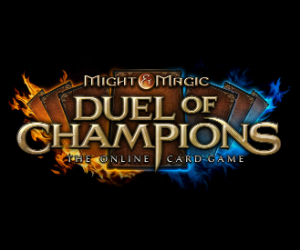 Card games are in vogue at the moment, with the ever-successful Magic the Gathering- Duels of the Planeswalkers receiving a critically acclaimed third yearly iteration, and the first to arrive on the iPad. However, they aren't the pinnacle of perfection, as there are still several features lacking that hardcore fans of the series would really welcome. By far the largest (recent) demand is the desire to be able to share save-games between the iPad and PC versions. Might & Magic: Duel of Champions, Ubisoft Quebec's take on the card gaming genre, promises to blur the lines between the PC and iPad.
A free-to-play game, Might & Magic: Duel of Champions' client-based gameplay allows exactly that, save game compatibility for both the PC and iPad versions, however, that's not all it allows, as cross-platform multiplayer is a definitive feature of the game. Displayed in Paris behind closed doors, Duel of Champions is currently entering closed beta throughout Europe, at varying rates of roll-out, and there are plenty of reasons why, even if you're not a card game fan (I, for example, have never seen the lure), you should try it out when it arrives.
Taking a more strategic approach to the art of card battling, there was some scepticism from myself when the Community Developer Emile Gauthier and artist David Sourwine, announced that they were taking pointers from the game of Chess. Add to that a rather confusing battleground (at first glance), and it appeared to be aimed at only the most die-hard of Might & Magic, and card-battling, buffs.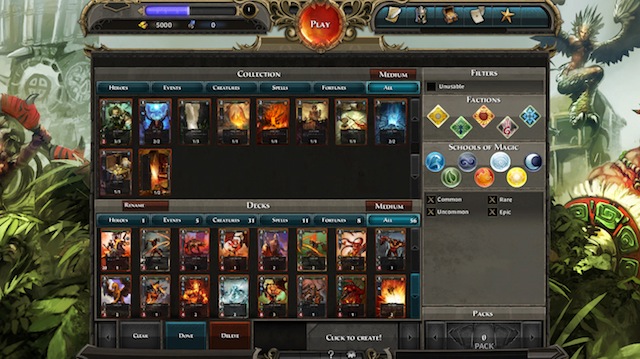 Until I played it myself, that is. As you load up the game for the first time, logging in with your uPlay account, you're immediately shown the 3 factions available to you at the beginning, Haven, Inferno and Necropolis, with a fourth faction, Stronghold, becoming unlocked throughout the course of the game. Once you've selected your faction, you gain a starter deck and begin a tutorial against an A.I. opponent. It's here where the intricacies of the game are explained.
The objective of every battle scenario is simple; lower your opponent's Hero's health to zero whilst protecting your own majestic leader. The way you do this is through the use of 3 types of cards: Creatures, Spells and Fortunes. Whilst all fairly self explanatory in terms of what they will entail, there are two pre-requisites that you must fulfil in order to play a card; you must have enough resources to play the card (determined by the level of the card) and you must have the correct stat levels. The way you accrue both of these things is by simply playing the game. Each turn, your resource count goes up by 1, and you're able to perform a hero action, levelling up one of the three base stats. Might, your brute power, is used to determine which creatures you can play, while Magic determines the Spells you can use, and Destiny determines the Fortunes you can use. Although there is some cross-over between Might & Magic (see what I did there?) in terms of different creatures, in general that's the way the cards operate.
Although there are tonnes of diabolical spells, hordes of creatures ready to live and die for your hero and a whole lot of Fortune cards for you to use on the battleground, there are also Event cards. Whilst your deck has several of them, your opponents too has several, and you're unable to select when to play which one. Instead, there are two event cards placed at the bottom of the battlefield, which you can use your resources on to take advantage of. Some of them will only benefit you solely, like providing more health or damage to any cards you play after it that turn, and some will benefit both players, but it's a case of balancing your decisions. With events that will eventually change weekly, so you never face the same ones for too long, they're an interesting decision.
Of course, card battles are nothing without game modes, and there are a handful of those at your disposal For the closed beta (which is available now in Poland and France, and will roll out to other countries soon), the campaign is locked off, and as such, it's not entirely clear what the single-player component of the game will entail. However, the practice modes and online tournament and duels are available, and thus it's very obvious that the PvP competitive aspect of the game is the priority. With ranked duels against other players of a similar rank (in order to not pair you consistently against decks much stronger than yours) and tournaments that also allow you to earn XP and the two in-game currencies, there's a very strong eSports-style feel.
As hinted at previously, there are two types of in-game currency, gold and seals and they're both used to purchase extra cards, packs and decks to battle with, but the way you accrue them is through playing matches, beating opponents and levelling up. Of course, it wouldn't be a free-to-play game without some monetization, but it's not exactly as intrusive as it could be. Sure, you can buy extra gold and seals to buy more cards to build a deck, but you can just as easily earn the currency to do that by taking part in online battles and tournaments. It will just take a bit longer.
In conclusion, for a non-card battler like me, Might & Magic: Duel of Champions is interesting, and enjoyable. With a modicum of strategy required, whilst being inherently free to play, it's perfectly accessible to both fans of card games, fans of the Might & Magic universe and complete newcomers alike. It's certainly got my attention.
[nggallery id=961]