At this year's Eurogamer Expo, we had the chance to interview Mike Bithell, Lead Designer at Bossa Studios about the upcoming Merlin: The Game. It is worth knowing that the company's previous game, Monstermind, won a BAFTA last year, so the guys probably know something about what they're doing.
So tell us about Merlin: The Game. What kind of game is it?
Well, Merlin: The Game is what we call a co-operative adventure game. It's a role-playing game where you play with your friends, you build up a character that suits your style and you go on adventures with your friends where you fight monsters and get loot. It's all full-time, real-time co-op. While you're constantly developing your character, you'll experience a cool story about Merlin and Arthur and all the characters from the famous TV show.
So is it client or browser-based?
It is all browser-based and it's a bit like, let's say Diablo, but the big thing for us was to try and remove the barriers to entry for the more casual player. To be more specific, it all runs in Facebook just like Monstermind. I think we achieved something pretty cool with it now.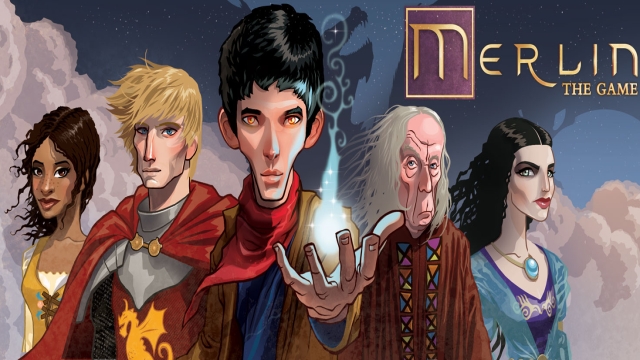 The term "full-time, real-time-co-op" that you just created, is it "drop-in, drop-out-co-op" as well?
Yes. It's all that. Basically, I won't go into the technology, but if you're on a map, you can see your friends' avatars, and if they're in different places, you can just click and join them.
Do you have your own world and you can join other players' worlds or is it like an MMORPG?
It is an ongoing world, it's sort of an MMORPG but think of it as a series of instances, for example. It is limited, so you can go into a map with four characters and not like a full MMORPG. You can jump in, see your friend, save them during a tough battle and then carry on.
When is the game due to be released?
It is going to enter the open beta stage within the next month or so. It's currently in closed beta and we're having a few people to try it out and hopefully it will grow into something awesome and fantastic.
You guys won a BAFTA and a Developer Award for Monstermind. Are you guys planning to win a BAFTA with this game as well?
We'd like to win another BAFTA and a Developer Awards as well, yes. We're working hard on this game as well and we'd love to get these again for Merlin: The Game. Obviously, we're trying to build a great experience for the players and we'd like them to have an awesome time. Hopefully some of those players are BAFTA board members that will give us an award. Who knows? (laughs) It's all about the players though.
Who's your target audience with this game? Is it a game for Facebook addicts or is it for RPG lovers?
Honestly, I know it is a cheesy answer but it is aimed at everyone. Obviously, there are Facebook gamers who aren't familiar with RPGs and I'd love Merlin: The Game to be the first one they play. There are people who are fans of the TV show and by playing, they will be able to expand on that experience and, of course, I'd like to reel in some old school RPG fans as well. They might find it a fun, "quarter-of-an-hour-a-day" experience. Jump in, do a little bit of questing while they're in the office, jump out.
How tightly is it connected to anything Merlin related?
What we were trying to do is to expand on the world of Merlin. We tried taking the Merlin universe in the TV show and build our own thing on top of it. So it ties in everywhere. Because we're part of the Shine Group, we're collaborating with them in bringing everything through. That includes audio, art, writing, etc. The creators are constantly in touch and we're getting feedback from them. This great relationship is allowing us to tell the story really well.
Is it possible to "finish" the game?
I hope not. Our goal is that you'll be playing this game for the rest of your natural life. We want you to play the game as long as you're enjoying it.
You can get loads of info about Merlin: The Game on www.merlingame.com