We're big fans of Doctor Who here at GodisaGeek.com and given our obvious love of games it's clear to see why we get excited when those too worlds come together; they rarely seem to. Doctor Who: Worlds in Time is a browser-based MMORPG set in the world of The Doctor. The player must pick a character, choose a role, and get busy helping The Doctor get out of whatever trouble he may have gotten himself into this time.
We recently had a chance to talk to Robert Nashak (Executive Vice President of BBC Worldwide) and Daniel James (CEO of the game's developer, Three Rings) about the game, ask them a few questions and get their answers.
So without further ado…allons-y!
First up we spoke to Robert Nashak, executive vice president, BBC Worldwide:
Was it difficult to bring a brand that's so universally recognised to the MMO world?
Bringing the Doctor Who brand to the online, social gaming world has been an exciting and challenging adventure. The rich history and mythology of the beloved series delivers the content we need to build a compelling storyline filled with iconic characters and visual worlds.
We have taken great care to make the mythology, environments and monsters in the game as authentic to the show as possible, with the goal of creating a deeply immersive experience for our fans. We've challenged ourselves to create a game that fits firmly within the Doctor Who universe and allows players the freedom to experience that universe in a new and compelling way through familiar interventions, monsters and worlds.
We've heard about some of the classic Doctor Who villains that we'll be able to come across in the game, but will there be any monster created exclusively for the game?
We are thrilled to be including classic villains from the show that haven't appeared in recent years, like the Zygon. With the game, our mission is to ensure the authenticity of the Doctor Who universe and characters remains intact so there are no plans to create an exclusive monster for the game.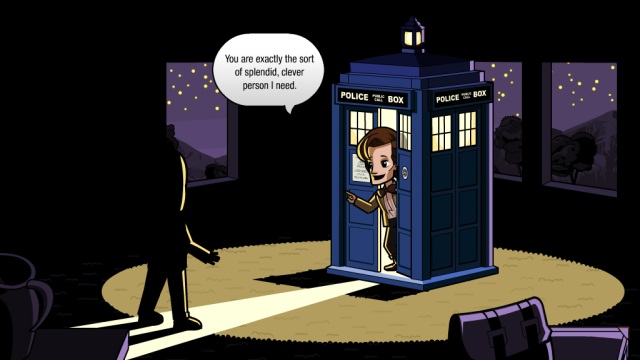 Will the game be solely browser-based or are there any plans to bring it fully into the PC world?
The game will remain browser-based. We wanted to make a game that was accessible to the greatest number of people, which is why we chose to make a game that was free- to-play and browser-based.
Are there any plans for console versions of the game?
The BBC Worldwide Digital Entertainment and Games team is committed to providing quality experiences for Doctor Who fans that are tailor-made for the game platforms they love. There are no plans at this time to make a console game for Doctor Who: Worlds in Time as we feel this game works best online. But for fans of console games we'll be launching the action game, Doctor Who: Eternity Clock on PS3 and Vita in the very near future.
A lot of people would argue that a lot of what makes a Doctor Who episode special are the writers such as Russell T. Davis and Steven Moffat. Will these guys be involved in any way? If so, how involved?
The writers are aware of the game, but are not directly involved. Together with our developer Three Rings, we've worked closely with the production team to ensure the experience in the game draws closely from the television show. The environments/ worlds, avatar options, characters and monsters are all derived directly from the television show. The missions players will engage in are consistent with the themes and conspiracies familiar to Doctor Who fans.
What's cooler? Bow-ties or Fezs?
It's hard to pick a side, as you can't go wrong with the matching bowtie and fez look. We expect they'll start popping up in mainstream fashion any day now. Luckily, with our robust character customization engine and in-game store, you can wear both at the same time.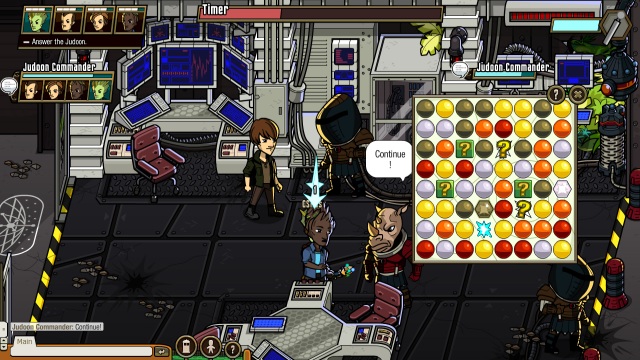 What will happen when we inevitably get a new Doctor in the TV series? Will the in-game Doctor regenerate with his on-screen counterpart?
The game is a faithful expansion and extension of the Doctor Who universe, and we're committed to continually adding new content that draws on the past, present, and ever-evolving world of Doctor Who.
How far into the future has the game been planned out? Will we be getting expansions and updates on a fairly regular basis?
Our Digital Entertainment and Games team has made a deep commitment to expanding the Doctor Who IP across several entertainment platforms. So, we have made a long-term investment in Worlds in Time.
The challenge has been to take a well-known universe and create an open-ended game, and the goal is that the game will never end. So we will continually be adding new expansions and updates on a regular basis. This is a multi-year enterprise.
We have been working closely with the Doctor Who brand team so elements from the show are referenced in game, and every intervention will sound and feel like it could be a Doctor Who episode.
How will Doctor Who: Worlds in Time fit in with the TV show? Will it be classed as canon?
We developed Doctor Who: Worlds in Time to serve as a faithful and immersive extension of the show. Our goal was to create a great Doctor Who experience, full stop.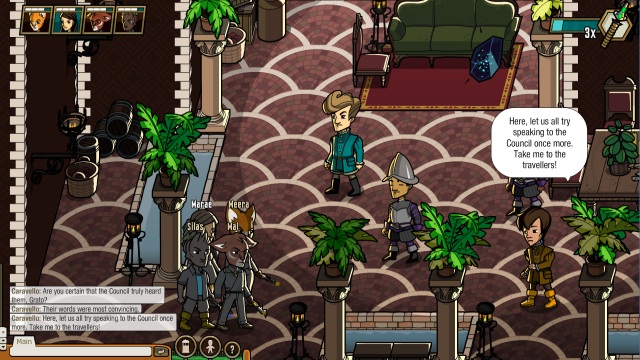 One we ask everyone: Ketchup…does it go in the fridge, or in the cupboard/on the shelf?
It goes on everything! Or…for the Doctor, it should probably be a tiny bottle in his jacket, since he never knows when a plate of fish sticks may present themselves.
Finally, a few words from Daniel James, CEO, Three Rings:
The Doctor famously only ever has one companion at a time. How does the fit into the feel and workings of a massively multiplayer game?
While on the television show, the Doctor has only one companion. With this game, we're enabling each player to go beyond simply being a companion. Players have a real sense of purpose and ownership over helping repair the very fabric of time and keeping the universe safe. In this way, people beginning the journey in Worlds in Time are going beyond what a companion can do. For example, when a player begins the game, they receive a "gadget" from the Doctor, and this device can eventually evolve into being something as flexible and powerful as a sonic screwdriver. In addition, the game's guild play, which is a strong feature of MMOs, requires users to work together to complete missions for the Doctor and win even greater rewards.
What will we see in terms of the Doctor's companions? Or are the players essentially role-playing as the companions?
Players will act as the Doctor's companions, and will have a great sense of purpose and agency in assisting the Doctor stitch time back together. We aren't currently incorporating companions from the show's history. However, fans will recognize we have included several nods to the Doctor's companions, such as the players being introduced in their pajamas, like Amy Pond. We are always exploring new opportunities to incorporate elements from the show.
That's all the time we had with the guys. What did you think of the interview? Did it raise any questions that you hadn't thought about? How about answering some questions that you did have?
Let us know in the comments below.
Doctor Who: Worlds in Time is available to play right now over at http://www.doctorwhowit.com/