Sonic and All-Stars Racing Transformed Media Blowout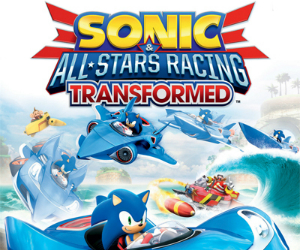 We've got screens, Wii U screens, a trailer, what more could a Sonic and All-Stars Racing Transformed fan want?
Before we get started though, we just want to remind you that you can check out our hands-on E3 preview of the title, by clicking here. Alex certainly seemed impressed, suggesting:
Throw in a greater number of interesting and effective weapons, and perhaps change the handling of the vehicles, and SEGA may just have a fun little racer here.
Let's start off with the Wii U screens, shall we, which show some environmental shots, along with some of Sonic and co.
[nggallery id=1001]
Looking good, as you'd expect. Now onto the PlayStation 3 and Xbox 360 screens, which show characters from Golden Axe, some Afterburner environments and much more.
[nggallery id=1002]
Finally we've got a trailer for you to enjoy. We're rather looking forward to Sonic and All-Stars Racing Transformed here at GodisaGeek. The previous Sonic kart-racer was fun, even the iOS version was a hoot. Let us know your thoughts below, please.
Sonic and All-Stars Racing Transformed is set for a November 16 release in North America, with a November 20 release in Europe to follow. It will be coming to PlayStation 3, Xbox 360, Wii U, PS Vita, Nintendo 3DS and Windows PC.