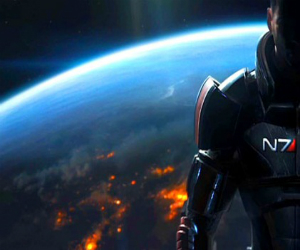 Mass Effect head honcho Casey Hudson went quiet on Twitter after all the furore surrounding the Mass Effect 3 ending was ablaze. However, now he's loving 140 characters, again!
Recently, the Executive Producer of the sci-fi series has been asking his followers about what they'd like to see in the next game. All pretty vague really. This time, he's getting more focused in his questioning. Yesterday, he tweeted;
"Parsing through your thoughts on the next#ME game. Would you be more interested in a game that takes place before the trilogy, or after?"
Mass Effect 4 – or whatever it'll eventually be called, is being developed by BioWare Montreal and will run on the Frostbite engine. Personally, I think a Mass Effect game that placed humans as the outsiders rather than the bosses would be a wonderful change of pace.  The First Contact War between the human race and the turians seems perfect.
What about you? Would you like to see the Mass Effect universe post/pre Commander Shepard?