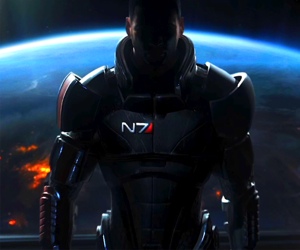 The official title for Mass Effect 3 on Nintendo's forthcoming console is Mass Effect 3: Special Edition and BioWare has released a trailer on their YouTube channel that shows a little bit of GamePad functionality.
The first ever Mass Effect title on Nintendo hardware can be played in full with the GamePad. We don't know all of the details on how the controller will help Shepard feed fish and chat up his squadmates, but in the trailer below, you can see a quick glimpse of how the second screen will come in handy when Shep's in the thick of it.
The Wii U edition of ME3, like the PS3 version of ME2, is packing a ton of extra content alongside the main game. Included within the package are the DLC packs; From Ashes, Extended Cut, Rebellion, the Earth and Resurgence multiplayer packs and a bonus weapon. The digital comic that was seen in PlayStation 3's Mass Effect 2 has been updated to include the original Mass Effect, as well as the sequel, for Wii U players.
Mass Effect 3: Special Edition is set to release on November 30 in Europe and November 13 in North America for Nintendo Wii U