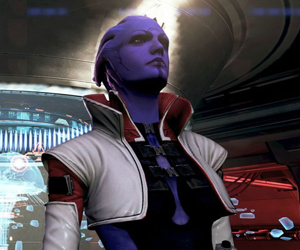 On Twitter, the official Mass Effect Twitter account was asked if the Omega DLC would be available on Wii U once it comes to 360, PC and US PS3s on 27 November – European PlayStation 3 owners will get it the following day. The answer the Twitter user got was, "Unfortunately it will not be available for Wii U."
Mass Effect 3: Special Edition on the Wii U includes some of the DLC that has already been released, but the Twitter conversation – which a NeoGAF user spotted and VG247 then picked up on – included questions about other ME3 add-ons coming to the Wii U. The omnipotent Mass Effect God said, "Never say never. :)".
The Mass Effect fan was also told that there is nothing to announce right now, with regard past games in the series making their way to the Wii's successor. For potential Wii U owners, it would be nice to play through all of the available content that is on the other systems, but I guess it's baby steps for third party support on Nintendo's next console.
Mass Effect 3: Special Edition is set to release on November 30 in Europe and is available right now in North America for Nintendo Wii U