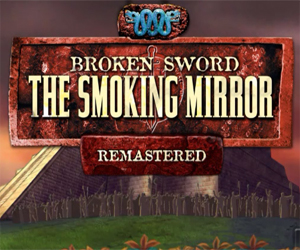 Broken Sword II: The Smoking Mirror follows the story of young Adventurers George Stobbart and Nico Collard as they stumble onto the trail of a Mayan artifact that could bring about the end of the world. It seems fitting that Revolution Games release their re-mastered version of the game on Android just ten days before the Mayans predicted that the world would end.
The game is the follow-up to the massively well-regarded Broken Sword: The Shadow of The Templars, which itself has received a re-mastered version which is already available on iOS, Android, PC, Mac, Nintedno Wii and DS. The Smoking Mirror is set just six months after that first game, and picks up the relationship between the two protagonists from that title.
Enhancements to Broken Sword II: The Smoking Mirror – Remastered over the original include:
Stunning animated facial expressions
Context-sensitive hint system and diary
Improved background and animation graphics,
Cut scene movies greatly enhanced both graphically and in terms of audio,
High quality music as originally composed by Barrington Pheloung,
Bonus interactive digital comic drawn by Dave Gibbons
Full English speech with option for subtitles in English, French, German, Spanish or Italian. (Additional speech files can be added to any version for mix and match language support
There have been four Broken Sword games to date, and thanks to a wildly successful Kickstarter campaign earlier this year, Broken Sword 5: The Serpent's Curse is now in development for release next year. And Revolution Adventure Games are truly alive and kicking, with their previous announcement that they will also be working on a sequel to futuristic thriller Beneath a Steel Sky.
See the launch trailer for Broken Sword II Remastered – on Google Play here now – below:
Broken Sword II: The Smoking Mirror – Remastered is available now for Android (via Google Play)