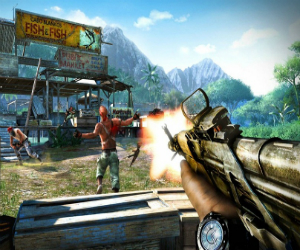 Like Assassin's Creed III before it, Ubisoft is supporting Far Cry 3 with some DLC that is exclusive to PlayStation 3 gamers. Via PlayStation Blog, Ubisoft Massive announced that the High Tides co-op add-on will be coming to PS3, in January. This will include two new chapters, in Jailbreak and Redemption, which will take place after the events of the co-op campaign included on the disc.
"We've got new missions, tougher fights, bigger competitions, some great up-close time with your favorite characters, and explosive moments unlike anything you've seen before", claimed Massive Entertainment writer Meghan Watt. 
The game is out today in North America and has been out in Europe for a couple of days now, so I doubt you're looking for more content already, but by January, at least you've this to look forward to.
Far Cry 3 is available now for Windows PC, Xbox 360 and PlayStation 3