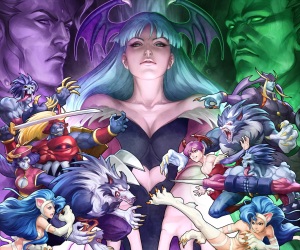 Over the last few weeks, Capcom have slowly revealed character specific videos and key art, and in week 3, we've got yet more, this time for Lord Raptor and Victor.
Just like with previous weeks, we'll start with the bios:
Lord Raptor
Before his first album released, no one had ever heard of the heavy metal rocker known as Lord Raptor before. Nevertheless, his unorthodox music earned a very devoted fandom, one which followed him with the fervor of a cult. What they did not know is that all of Lord Raptors songs were actually texts from an ancient grimoire, and they were all being prepped for sacrifice to grant himself immense power. When police were called to the scene of Raptor's final live performance, they found the audience – over 100 people – dead, drained of their blood despite no obvious wounds. Raptor himself was skeletonized.
After being dead for some time, Lord Raptor was resurrected by Emperor Ozomu, a noble of the demon world Makai. Ozomu noted Raptor's lust for power willing sacrifice, and decided to use this to him as his agent. Raptor accepted the offer- and the power that came with it – with the full intention to betray Ozomu and usurp his position.
Being given a second opportunity on Earth, as well as a beast companion called Le Malta, Raptor sought to find every Darkstalker he could, so to kill them and consume their power.
Victor
In 19th Century Germany, a mad scientist by the name of Victor von Gerdenheim became obsessed with bringing the dead back to life. To this end, he resurrected the corpse of a woman using electricity. Unfortunately, this woman, who he named Emily, ran out of energy and would stop functioning unless constantly powered by electricity. Eager to improve upon his design, the scientist created a male design significantly larger than that of a normal human, and inserted a generator into it.
Upon flipping the switch, this new creation came to life, but the stress ended that of the scientist. The creature, able to generate its own electricity (enough, even, to power Emily when she was nearby), could stay animate indefinitely, and thinking that his dead creator was simply ignoring him, he decided to prove his worth so that his father may accept him.
Taking the scientist's name, the monster Victor von Gerdenheim set out to find the strongest opponents he could find.
[nggallery id=1256]
Darkstalkers Resurrection is released on March 14th for Xbox Live Arcade and on the PlayStation Network.