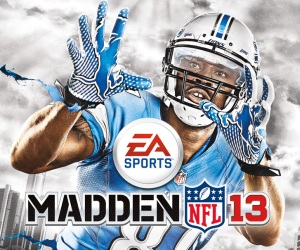 This Sunday comes the grand-daddy of them all – the Super Bowl. We know that the San Francisco 49ers will go up against 1996 champs the Baltimore Ravens. We also know that both teams have a few things in common – killer defence, winning pedigree, and a Harbaugh brother as a coach. But did you know that for the 7 out of the last 9 Superbowls, EA Sports have correctly predicted the outcome of gridiron's most prestigious matchup, using their Madden game engine?
And this year? Well they are predicting victory for Ray Lewis and his Bodymore-based crew.
Me? I am not so sure. The Niners have an immaculate 5-0 record in the big game, and will go into the match as favourites. But in the future Hall of Fame likes of Ray Lewis, Terrell Suggs and the awesome Ed Reed (I can think of no more deserving reciepient of a Superbowl ring than Baltimore's legendary safety) they face a tough test.
Let me show you EA's rundown of how their virtual 'Bowl turned out:
In a thrilling contest that went down to the final seconds, the Electronic Arts Inc. Madden NFL 13 Super Bowl Prediction Powered by Xbox 360 has predicted the Baltimore Ravens as Super Bowl XLVII champions, defeating the San Francisco 49ers 27 – 24. With the victory, the Ravens captured their second Lombardi Trophy and allowed linebacker Ray Lewis to end his illustrious NFL career as a Super Bowl champion.
Both the Ravens and 49ers were held to first quarter field goals as the two top-ten defenses imposed their will to start the game. But any illusions of a low-scoring affair were shattered in the second quarter when the 49ers' Frank Gore scored on a 19-yard run and Joe Flacco quickly answered with an 18-yard touchdown pass to Torrey Smith. Later in the quarter, Baltimore added a Ray Rice touchdown run to secure a 17 -10 halftime lead.
The Ravens continued to pour it on in the third quarter, with Joe Flacco tossing a 24-yard strike to Anquan Boldin to stretch the Baltimore lead to 14. San Francisco refused to go quietly though, getting an early fourth quarter touchdown from Frank Gore and adding a game-tying 12-yard touchdown pass from Colin Kaepernick to Vernon Davis just before the two-minute warning.
Baltimore wasn't about to let the 49ers spoil Ray Lewis' retirement party though, methodically moving the ball down the field on the back of Ray Rice and capping the drive with a 40-yard field goal from rookie kicker Justin Tucker to push the Ravens ahead 27-24. The 49ers made one last attempt at capturing their sixth Lombardi Trophy, but an Ed Reed interception of a pass from Colin Kaepernick with ten seconds remaining capped the Ravens' second Super Bowl title in franchise history and proved once more that defense wins championships.
Living up to his preseason claims that he was indeed an elite quarterback, Joe Flacco took home MVP honors completing 19 of 27 passes for 260 yards and two touchdowns. En route to his first Super Bowl victory, Flacco eliminated a number of young signal callers and future Hall-of-Famers including Andrew Luck, Peyton Manning, Tom Brady and Colin Kaepernick.
The EA SPORTS Madden NFL Super Bowl Prediction continues to be one of the most accurate prognosticators of the NFL's biggest game. The prediction has accurately called seven of the last nine Super Bowls, and was two points away from predicting the exact final score of the 2009 matchup between the Steelers and Cardinals.
This week the Madden NFL franchise will be providing wall-to-wall coverage of the Super Bowl live from New Orleans. Fans are invited to become a Madden Insider for exclusive information on Facebook including interviews with athletes at Super Bowl Media Day hosted by Von Miller, an inside look at the Madden Bowl red carpet with Arian Foster and much more. It's a unique look at the big game that only the Madden NFL team can provide.
Madden 13 is available now on Xbox 360 and PlayStation 3.