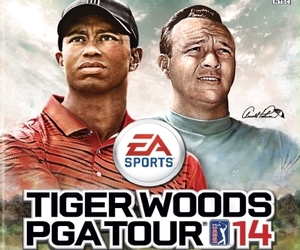 The latest instalment in the Tiger Woods PGA Tour series is due to release at retail very shortly, and Electronic Arts has just announced a brand new gameplay mode for the title – Legends of the Majors.
Fans will get the chance to take on nine of the greatest golf legends of all time in Tiger Woods PGA Tour 14, and at some of the biggest courses from the Majors tour. The line-up of golfing megastars includes; Seve Ballesteros, Ben Hogan, Bobby Jones, Jack Nicklaus, Arnold Palmer, Gary Player, Sam Snead, Lee Trevino and Tiger Woods. Players will be able to take to the greens on both Xbox 360 and PlayStation 3, with the game supporting both Microsoft Kinect and PlayStation Move motion control respectively.
The game will feature:
More Championship Courses – Featuring Augusta National Golf Club, the Old Course at St Andrews, Pinehurst No. 2 Restored and THE PLAYERS Stadium Course at TPC Sawgrass. This year's game features the most courses ever offered on disc – a total of 20 courses.
Huge Player Roster – A robust roster of more than 35 playable golfers, representing both the PGA TOUR and LPGA, are featured inTiger Woods PGA TOUR 14.  Compete against legends of the game and present-day stars including Bubba Watson, Keegan Bradley, Rickie Fowler, Lexi Thompson and Paula Creamer.
Look the Part – Step to the tee box on the game's historic courses, experience unique era-specific gameplay visual treatments, wear classic attire and use equipment from golf's rich history as you travel through time rewriting the record books with your own legacy.
Make Way for the Ladies – Another new feature to the Tiger Woods PGA TOUR franchise is the introduction of the LPGA.  Female created golfers can now compete on the LPGA and attempt to become a major champion by winning the Kraft Nabisco Championship. There are five playable LPGA golfers including 2012 Rolex Player of the Year Stacy Lewis.
Golf Anytime in Any Condition – For the first time in franchise history, Tiger Woods PGA TOUR 14 features night golf.  Tee it up after the sun goes down and watch your drives streak through the night skies with an illuminated ball. In addition, new time-of-day settings allow fans to play golf in any condition at any time of day in conjunction with a live weather feed.
Members Only – Country Clubs are back and better than ever with the ability to invite up to 100 members, chat online, hold tournaments and track statistics to create the ultimate competitive environment.
Customize Your Swing – With 24 unique golfer swing styles available, you now have the ability to customize the type of golfer you want to be. Advanced shot shaping, enhanced strike meter and ball physics have all been improved to reflect a real-world golfing experience.
Never Play Alone – A new online experience allows you to play with up to 24 competitors at a time while an all-new dynamic stat tracking system feeds live data from the entire tournament field and makes you feel as if you're in the mix of a real event.
More information about Tiger Woods PGA TOUR 14: The Masters Historic Edition will be coming soon.
See the Meet the Legends trailer and the first screenshots below:
[nggallery id=1201]
Tiger Woods PGA Tour 14 will be released on March 28, for Xbox 360 and PlayStation 3.