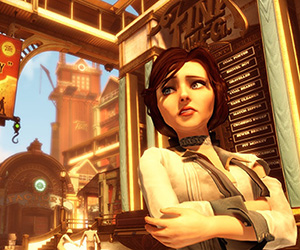 Irrational Games have revealed that Bioshock Infinite was almost set in the Renaissance era.
The news comes as the company releases a new trailer for the highly-anticipated shooter.
Bill Gardner, Irrational's user experience specialist, revealed the early-plans in an interview with Polygon.
"I will say that I was actually pushing for something more Renaissance," he said. "But within six months Assassin's Creed 2 was announced and I was like 'Okay, well they beat us to the punch'."
He also revealed the extent of the content cut from the game.
"We cut off enough things to make five or six full games, it is alarming.
"I mean, it pains you when you are talking about about cutting one of your babies but ultimately you got to to look at the final piece," Gardner said.
"A year later the audience is not going to care and eventually you don't care."
Bioshock Infinite will be released worldwide on March 26th on Playstation 3, Xbox 360 and PC.