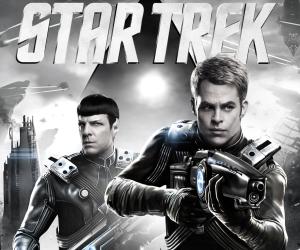 The new Star Trek game from Digital Extremes – the team behind the very nicely-executed The Darkness II – is incoming, and players will soon get the chance to take on the roles of Kirk and Spock in a co-operative adventure.
The game will bridge the gap between the first Star Trek reboot movie, and the sequel that is due later this year, Star Trek: Into Darkness. Featuring the full cast of the films and involvement from the writing team behind them, this game is shaping up very nicely and looks almost like a Star Trek Mass Effect game.
One of the big selling points of the title is that fans will be able to explore the U.S.S. Enterprise ship like never before, and get a closer look for themselves. Working closely with the team behind the film, Digital Extremes feel that they have crafted the most authentic Enterprise experience ever seen for gamers.
Senior vice president of Paramount Pictures and executive producer of Star Trek: The Video Game, Brian Miller states; "One of the great joys of video games is the opportunity to take audiences to places that are only hinted at in traditional film and TV projects… Giving gamers the opportunity to explore the U.S.S. Enterprise is one of the more exciting aspects of our video game and one that we can't wait to share with Star Trek fans and gamers worldwide."
We can't wait, but for now why not see the two new screenshots of the Enterprise below:
[nggallery id=1302]
Star Trek: The Video Game will be released on April 26 2013 in Europe and April 23 2013 in North America for Windows PC, Xbox 360 and PlayStation 3.