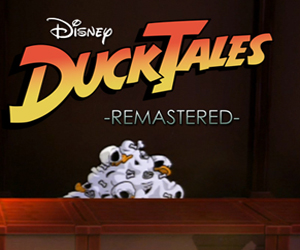 Holy crap.
Heralded as one of the NES' best ever games, DuckTales is making a comeback. DuckTales Remastered is being developed by WayForward (Silent Hill: Book of Memories, Batman: The Brave and the Bold) and published by Capcom. There's no concrete date on when we'll be revisiting childhood yet, but it will be coming some time this Summer.
Characters have been recreated with beautiful sprite art, whilst the world around them will be rendered in 3D. This platforming classic will also feature those 8-bit tunes you remember, remixed by WayForward's Jake Kaufman. As well as the actual game, there are a ton of other things here like a Duckburg museum to track your progress and Scrooge McDuck's goddamn money bin! YOU CAN SWIM IN MONEY, FOR CHRIST SAKE! On top of that, the surviving members of the DuckTales voice cast will be reprising their roles in this remastered edition.
DuckTales Remastered will be coming to eShop, PSN and XBLA later this year so while you wait, look at these screenshots and watch this magnificent trailer packed full of wonderful nostalgia and brilliant quotes at the beginning.
[nggallery id=1394]