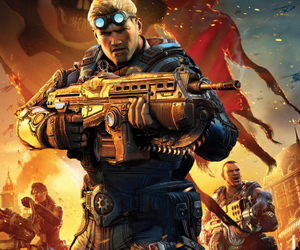 As if gamers weren't excited enough for the impending release of the new Gears of War title, entitled Judgement – especially after our extensive preview – Epic Games and People Can Fly have announced a new feature and playable character in the game, and that character is called the Epic Reaper.
This new feature will act as a community based reward, where every week, one nominated member of the Gears of War community will be chosen to become the Epic Reaper – based on their activity levels and contribution to the thriving Gears community.
The Epic Reaper is a new Locust class who has special abilities and physics, that make him a tough new opponent. Get chosen and you get a special custom set of Gears of War dog tags to remember it by. Even if you don't get chosen to play as the Epic Reaper, keep an eye out for one in-game and if you kill it you will be awarded the Reaper Medal and a custom weapon skin.
If that wasn't enough, the development team have just released a new trailer for the game too, where we get to meet the four active members of Kilo Squad – the squad of Gears who the story mode in the new game will be focusing on. These members are:
Baird: The smart-ass engineer of the squad. He may be a pain at times, but you'll be happy to see his sentry go into action if you're in battle
Cole: Eternal optimist and cheerleader. Happy to hand you some ammo if you run out.
Sofia: Halvo Bay native and war correspondent, Sofia believes in fighting wars ethically.
Paduk: Former enemy of the COG, this Gorasnayan fought against the COG during the Pendulum Wars.
So what are you waiting for? See an image of the Epic Reaper, and the latest trailer for the title, below:
[nggallery id=1376]
Gears of War: Judgment will be released on March 22 in Europe and March 19 in North America for Xbox 360.