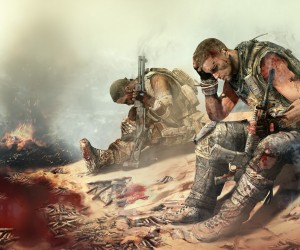 The studio behind the single player portion of 2012's big surprise has been revealed to be at work on a next-gen title. Spec Ops: The Line developer Yager Development has become the first European indie to license Unreal Engine 4.
Epic Games revealed that the German developer is using the engine to make "a major next-generation title to be unveiled in the coming months."
Managing director at Yager Development Timo Ullmann expressed the team's delight over utilising the power of UE4 for their upcoming effort;

"Unreal Engine 4 is, hands down, the best toolset for creating next-generation, AAA games. Unreal Engine 3 enabled our great team to tap its full potential for the development for our award-winning game Spec Ops: The Line and beyond. Yager is thrilled to be utilizing Epic's latest technology for our foremost project as the new workflow is incredible, and Blueprint visual scripting gives us more control over building our games than ever before."
Some found the game rather generic and middle-of-the-road, but personally speaking, Spec Ops: The Line was one of my favourite games from last year because it attempted to do something different with a genre that, for the most part, revolves around mindless killing.